Emergency Triage Tents, Vaccination Centres, Screening Areas & Temporary Hospital Buildings
What if you unexpectedly find yourself in an emergency situation and are in urgent need of extra space? Maybe you need a mass vaccination centre or somewhere to store supplies? At Neptunus, we provide emergency temporary buildings for every application, tailored to your needs and requirements.
Whether you want a temporary triage structure or testing areas constructing, we know that you need a high-quality, robust space so that you can concentrate on the task at hand. Our temporary, demountable structures can be quickly assembled, are flexible and cost-effective, and we can have them ready when and where they're needed.
Additionally, structures can be provided as a turnkey solution from an empty car park to full working facility. So, you can be up and running within a few days.
Create a functioning healthcare site with our emergency structures
As experts in building temporary structures, we know how to construct both short and long-term facilities designed to meet a range of needs. When it comes to creating temporary hospital buildings and other types of emergency healthcare centres, therefore, we understand there is an urgent need to meet demand and act quickly.
It may be that you need extra space for employees, patients, or both. We can provide temporary emergency structures for a range of needs. Some examples include:
Temporary vaccination centres: Right now, there is a need for mass vaccination. We can quickly assemble off-site vaccination centres, temporary vaccine hubs or waiting rooms in the form of temporary emergency tents or as larger-scale structures. These can be built in most settings, such as grass or tarmac,  with full heating and ventilation systems (if required) to keep patients and staff comfortable.
Temporary testing or screening areas: We can provide areas for mass testing sites, giving patients and staff enough space for screening services to take place safely. Should you require a drive-through service, you'll find that our team can construct a suitable testing service that meets your requirements.
Quarantine areas: If patients or staff must isolate for any reason and you need a dedicated area for them, our temporary quarantine areas allow people to safely distance from others. They are sterile environments that can be easily maintained.
Triage structures: In an emergency situation, you need areas where patients can be easily assessed. By adding a temporary triage structure or triage waiting room, medical staff can safely check patients over in a dedicated temporary space.
Medical storage facilities: Safe storage is crucial for medical supplies. You need a space that's sanitary and easy to keep clean. Our storage solutions will help you safely store essential medical materials.
Temporary hospital buildings: We also supply temporary hospital buildings. If there is no room within the main hospital, or the emergency situation demands a structure that can be quickly assembled and we will meet your criteria.
Healthcare facilities: Treating patients can be done smoothly in one of our healthcare facilities.
Consultation areas: Perhaps treatment needs to be given or a procedure needs to be carried out. Whatever the need for the structure, medical staff can talk through the next steps with patients in one of these consultation spaces.
Temporary morgue: When public morgues and hospitals are running out of space.
The advantages of emergency structures from Neptunus
Rapid delivery and build times

Operational life from a few months to several years

Rapid delivery and construction times

Easy to partition for social-distancing requirements

Modular: Flexible dimensions and design

Fully insulated and ventilated

Clear span widths of up to 60 metres

Turnkey solutions to meet your needs
Neptunus builds XL test and vaccination facilities in the fight against coronavirus
Temporary building for test lane Covid-19
Tent for test lane Covid-19
Triage tent for Maastricht Hospital
Additional welfare facilities for The White Company
Temporary Covid-19 hospital in Cardiff
Temporary Covid-19 hospital in Jersey
Temporary dining facilities Merck
Whirlpool Temporary Showroom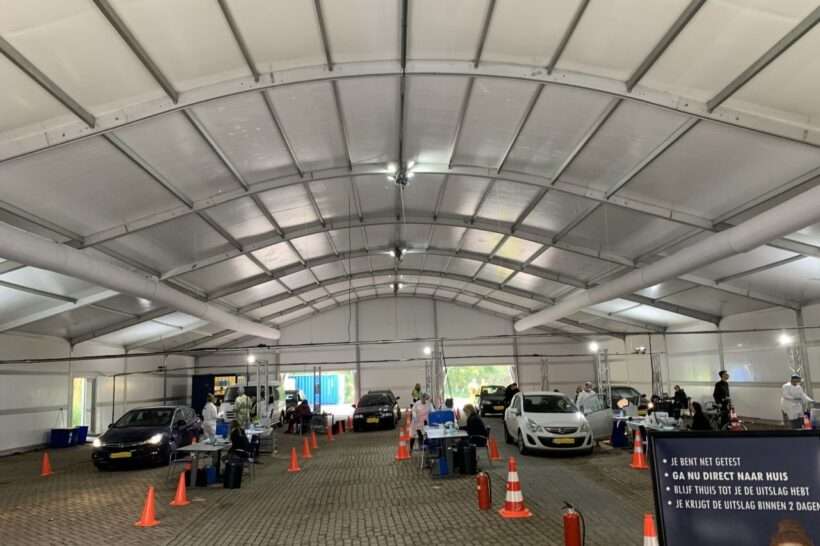 Flexible emergency structures
Our marquees and other types of structures are available in a range of shapes and with varying dimensions. We work with you to find out exactly how much space you need and use a range of building solutions to suit the application. We do this if you need one or a combination of emergency temporary buildings.
We'll also work with your existing structures, wherever necessary. So, if you need to organise a steady flow of patients and visitors while keeping everyone safe and socially distanced, we can connect a new construction to your current building to create a working system.
Designed to work for you
We will communicate with you throughout the design process to find out what type of structure you require. Every structure we build includes a raised cassette floor as standard and can include partitions, which is ideal if you require a vaccination or testing centre, along with heating, lighting, and ventilation.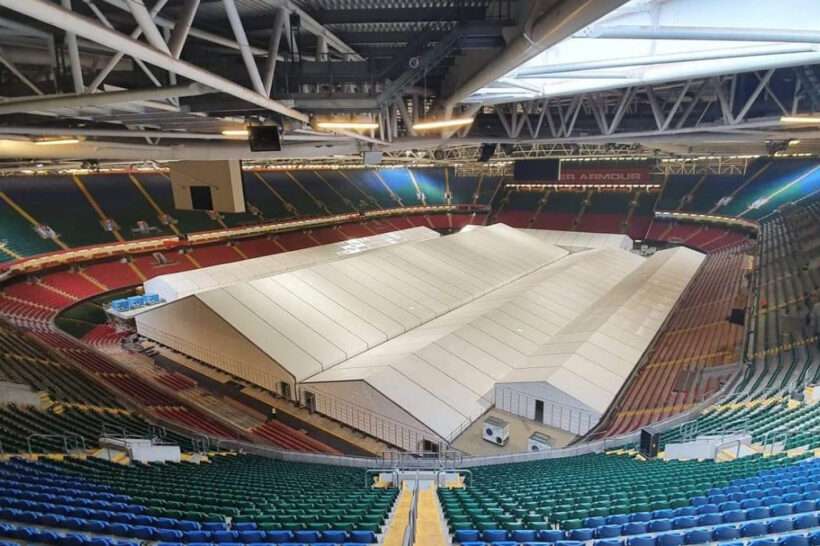 Quick, efficient builds
Any application is possible: from triage room, emergency hospital, temporary airport terminal to temporary supermarket.
In the event of a natural disaster or other catastrophe, acting quickly is crucial. We can provide various emergency facilities rapidly. It does not matter where and when. Even if you need our help within 24 hours, we'll be there, and your emergency temporary building will be ready for you.
Does your facility need an emergency structure?
Every case and need for emergency structures is different. We are happy to help you. Visit our contact page and request a callback. Alternatively, you can speak to our sales team over the phone or via email and we'll give you a quick, no-obligation advice that's tailored to meet your needs.
Interested in triage tents or emergency buildings?