Neptunus builds additional staff welfare facilities for The White Company during busy Christmas period
The Assignment

The White Company is a retail company in lifestyle products, formed in the 90's and nowadays an international company with head offices in London and Northampton. The multichannel retailer is fast-growing with their online shops and several stores across the country.
The lead up to Christmas and the New Year is by far the busiest period of the year for The White Company. During this period, the company has to hire more staff and find additional welfare facilities to ensure all orders can be packed and delivered on time to their customers.
As both Neptunus and The White Company are located at the same business park – only a 3-minute walk apart from each other – it is a brilliant example you don't have to look that far away to find the solution you need.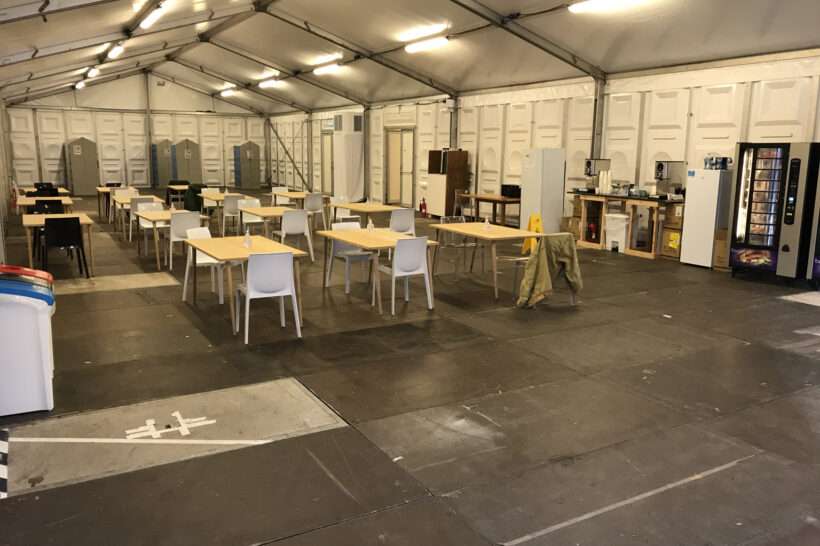 The Solution
A team of 6 Neptunus technicians took just 2 days to erect 2 Alu Halls with a total of 375 square metres. The specialist in event structures and temporary buildings was also responsible for supplying additional services including pod toilets, lighting, heating and floor covering.
The White Company chose Neptunus because of their location nearby which minimizes the transport costs, their speed of response and reliable reputation for building temporary structures for both events and commercial use.
The facilities will stay up for 3 months during the company's busiest months of the year. After dismantling the structures, the materials will be re-stored again a few hundreds metres further for future use.
The Challenge
The site visit was planned in May, during the first wave of the corona crisis. For maintaining social distance at any time, all attendees had to comply with the additional measurements. Travel time was next to nil and Ben Keast, Managing Director of Neptunus Ltd and project manager, was able to walk to the site visits and project meetings. An unusual but environmentally friendly method of transport.
The Verdict
Brendan Curtis, Head of Supply Chain and Logistics at The White Company, said: "As an operation and a distribution centre, the health and safety of our colleagues is our most important priority.
Historically, as a distribution centre, our reliance on short term agency colleagues through peak is always large, but this year even more than ever, as a shift in customer buying habits has put increased demands on the number of colleague headcount needed through peak and Xmas.
With social distancing measures at the forefront of any decision, it was early on very obvious that in order to facilitate more agency colleagues on site safely, we would need to do things differently.
Bringing in the temporary building from Neptunus has enabled us to double in size our social areas in the distribution centre while continuing to honours social distancing measures whilst employing a much larger workforce to support with the increasing demand.
It is clear that without this solution, we would not be able to safely deliver the demands to our customers over peak and Xmas."
These products were used in this project: