Temporary Warehousing & Storage
Designed to meet the ever-changing needs of your business, our temporary storage buildings could be the solution you've been looking for.
Whether you have plans for expansion, you need a cold room to store your goods in, or maybe a large order has created short-term space and capacity issues, our semi-permanent storage solutions provide the additional support you require.
Why might I need a temporary storage building?
Temporary warehousing can be erected anytime your current storage facility is unable to cope with demand and an additional storage solution is required – if only in the short-term. This could be due to an unexpectedly large order or maybe you've experienced damage to your current property and new premises are required quickly to ensure continuity of business, minimum disruption and no loss of turnover.
Thanks to the design of our temporary storage structures, within one day or week we can expand your logistics centre with a tent or temporary warehouse structure, for as long as you need. Whether it's to bridge a gap for a specific period (such as during building or renovation works) or to replace or extend existing facilities, our temporary warehousing allows you to expand without investing in a permanent building.
What type of temporary warehouses can Neptunus supply?
Our storage tents and temporary warehouse buildings can be set up according to your own requirements and can easily be connected to your existing building should you wish.
Providing businesses who are looking for practicality and flexibility from their temporary storage, the Alu Hall is the perfect short-term solution. We can even anchor a tent without flooring to an existing base or use a special floor with extra load-bearing capacity.
If you're in need of a more robust and large scale structure, then our Evolution and Flexolution semi-permanent warehouses with fixed roofing and insulation could be the solution you've been looking for. These revolutionary temporary buildings are suitable for both short-term and long-term use, from a couple of months to many years. With high insulation values these structures are temperature-controlled so your employees can work in a proper environment and your products are stored under the right conditions. Maintaining proper storage conditions for temperature-sensitive products is vital for many industries, and we provide temporary cold storage warehouses designed to operate within controlled temperature ranges.
Like traditional warehouses, our temporary warehouses can be equipped with loading bays, roller shutter doors, and mezzanine levels. They can be fitted with a raised cassette floor as standard and can be partitioned if desired. Our structures are strong enough to accommodate extreme weather conditions such as strong winds and heavy snowfall, as demonstrated by the temporary warehousing we created for Valeo in Belgium.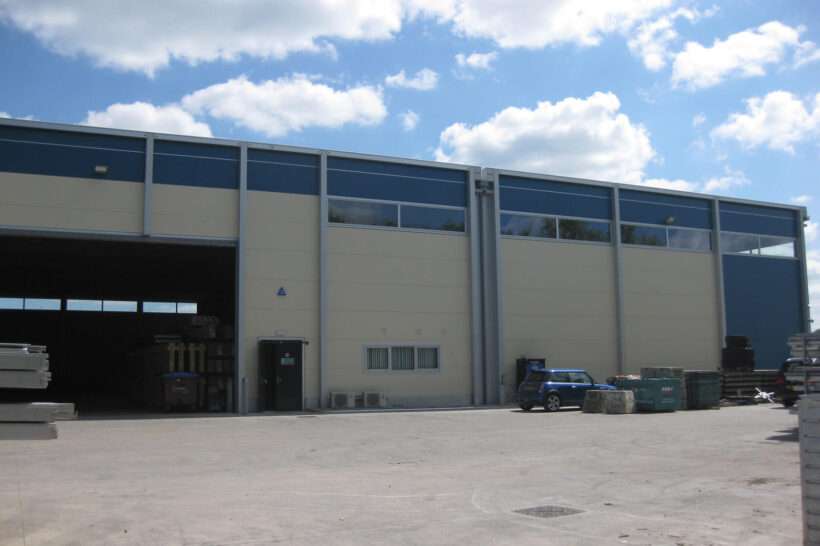 The advantages of a semi-permanent warehouse
Equipped with loading docks, dock shelters, rolling doors and more

Flexible height dimensions from 5 – 13 metres

Rapid delivery and build times

Operational life from a few months to several years

Fully insulated: temperature-controlled warehouses

Sustainable: Can be dismantled and reused

Modular: Flexible dimensions and design

Can be built to store dry goods or as a cold room or cold storage warehouse

Appearance and characteristics of a permanent building

Turnkey solutions from concept and execution to handover
Temporary storage hall in the port of Antwerp
Can I store cold as well as dry goods in your temporary warehouses?
We know that there is a lot to consider when storing your goods, especially if you've suddenly found you need additional space quickly for a large order. That's why we provide solutions for both dry and cold items. If you need a cold storage warehouse, we can build to suit your specifications, whether you need a fully insulated temporary structure or an industrial-level cold room for containers.
Whatever you need the short-term warehouse for, you'll find you're in safe hands when you choose Neptunus. We are skilled in constructing cold rooms and other types of insulated temporary buildings for a range of applications. So, from cold to dry goods or a combination of the two, they're sure to remain in the best condition while they are being stored in these structures.
What size temporary storage buildings do Neptunus offer?
Our temporary storage buildings and structures can be supplied in many different sizes and shapes. No matter how much extra space you need, Neptunus has the right solution for you. We can build a facility for your needs with a fast and cost-effective structure. If floor space is at a premium, our Evolution temporary storage buildings can be built up to a height of 13 metres.
We can even construct multiple, large scale structures on one site, which is what we did for Volvo, constructing three Evolution structures sized 25m x 30m, 25m x 40m, and 45m x 40m, all with an eight-metre ceiling height. This long-term project was completed in just two weeks and gave the manufacturer the space required to expand its truck production in Belgium.
How do I find out more about temporary storage buildings?
Whether you're looking for temporary storage for your business for the interim, or you require a semi-permanent warehouse solution, we have a bespoke building for you.
If you'd like more information on our temporary warehousing and want to know how we can help you create the extra space you need, please don't hesitate to get in touch. Our expert, professional team are always on hand to discuss your needs and find a solution that suits you.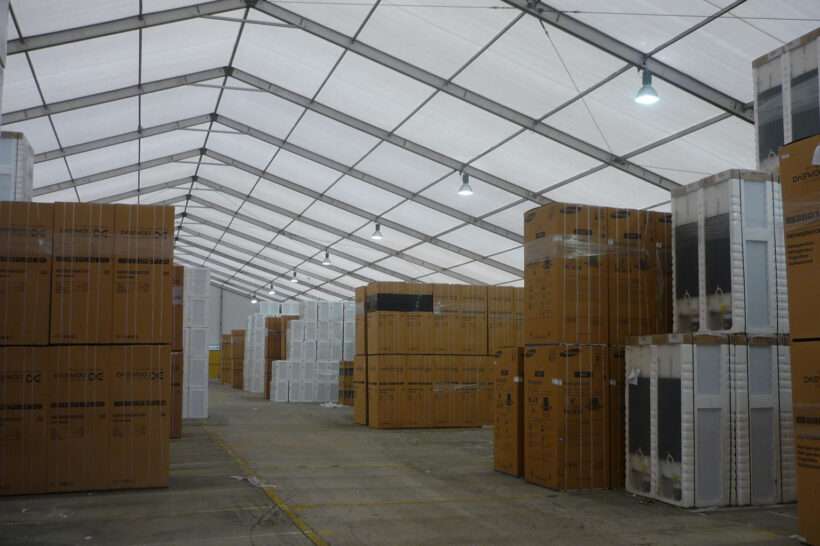 Interested in warehousing?