Temporary Car Showrooms
You're looking to showcase your cars with maximum impact and at several locations. However, your chosen destinations may not have the right venues or facilities to meet your exact requirements – or perhaps your current showroom building is too small or needs major renovation works.
Appearance is everything, particularly when it comes to showing off your vehicles to potential buyers. Neptunus' insulated buildings provide high-quality temporary space solutions for all sorts of showroom applications. No matter which makes and models you have to offer, guarantee that they look their best by reaping the benefits of a Neptunus temporary car showroom space.
What are temporary car showrooms?
Space is a key feature of any showroom – giving each of your vehicles the platform to be displayed, considered and admired to the fullest.
If you want to trial a new location or you have simply run out of space, then a relocatable car showroom could provide the ideal solution. Our temporary structures can be tailored to practically any requirements so that all makes and models can be showcased in the most effective way possible –
Neptunus can bring your plans to life through a temporary structure. Being in control of your showroom building means that you can bring out the best in your cars, regardless of where you may be taking them.
We will work with you at every stage to ensure you're satisfied and get the maximum value from your space. Using our Evolution and Flexolution technologies, you can be sure that your temporary showroom will be of the highest quality and last as long as you need.
With a wide range of temporary buildings for sale, simply select your location, building specifications and how long you will need it for.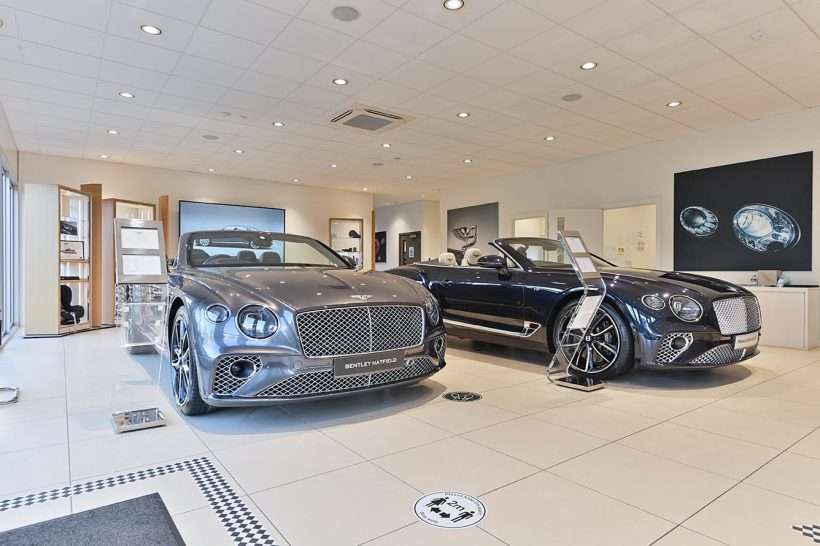 The advantages of a temporary showroom building
Flexible interior space to create the atmosphere you want

Fast delivery and build times

Useful operational life from a few months to several years

Sustainable: Can be fully dismantled and reused

Modular: Flexible dimensions and design

Appearance and characteristics of a permanent building

Turnkey solutions from concept and execution to handover
Temporary luxury car showroom
Whirlpool Temporary Showroom
When is a semi-permanent showroom beneficial for you?
Temporary showrooms can address a wide variety of potential issues and opportunities for businesses:
Your existing showroom facilities no longer meet your requirements or are unavailable
To bridge a gap for a specific period i.e. during rebuilding or renovation works
To replace or extend existing facilities
You see a growth market for your business but are not ready to make a permanent investment
Following a disaster such as a fire
To create a portable showroom for a product roadshow
There are many reasons why a temporary showroom may be beneficial for you and your business. If you are interested in finding out more information about our temporary buildings, you can contact a Neptunus representative for expert advice and assistance.
How have Neptunus' temporary car showrooms helped others?
We're fully committed to providing fast, flexible solutions to our customers and have been able to do that on many occasions with our temporary car showroom buildings.
One such example came when HR Owen, the UK's leading luxury automotive retail group, expanded to set up a new location. While the permanent premises were being designed and built, we were able to provide a temporary showroom building for some of the world's most expensive cars, including Bentleys and Lamborghinis.
It was a similar story when Cambria Automobiles, an authorised dealer for McLaren, came calling after securing a site on an undeveloped piece of land. They wanted to launch quickly, and we were able to erect a 216-square metre temporary showroom in just five days.
We have helped customers across the continent, too. When two BMW dealerships in Hamburg underwent a revamp, they needed temporary car showrooms to avoid losing revenue through closures. It took us just three days to install a pair of 500-square-metre structures that allowed business to continue as usual.
What is the average lifespan of a temporary showroom?
Our temporary buildings have been designed to last for as long as you require them, whether that's a few weeks up to 20 years. Some of our customers have had their Neptunus structure in place for over 10 years!
Do I have to buy a temporary showroom?
We offer a range of flexible options when it comes to our structures. You can hire your car showroom building for practically any length of time with a tailored payment plan, or you can buy the space outright.
Whichever option you choose, we'll take you through all the costs before agreeing to anything and provide a fully transparent service. There's no obligation to buy the showroom building at the end of your contract date and flexible options can be explored to ensure that you're getting the right deal for your business.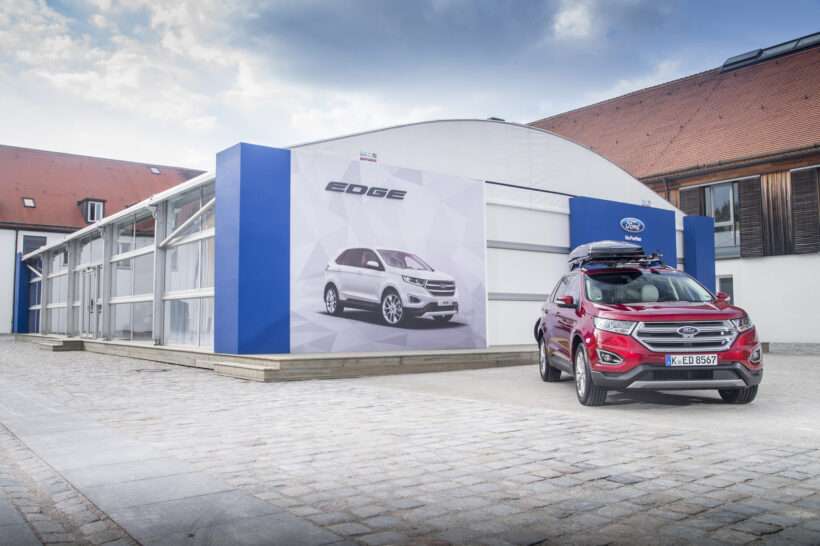 Will I need planning permission for a semi-permanent showroom?
If you plan on keeping your structure in place for more than 28 days, you'll be required to get planning permission. So, a short-term pop-up might not need permission, but a temporary car showroom as an extension of your main floorspace likely will.
Our Project Manager can help you by providing advice and support surrounding planning rules and what you need to do.
Do building regulations apply to temporary showrooms?
Yes – regulations will still apply to your showroom building to ensure that it is fit for purpose. However, like planning permission, talking to our experts can provide you with the assistance needed to figure out all the legalities and paperwork.
Interested in installing a temporary showroom?
If you're ready to get your car showroom construction up and running, get in touch with us today. We'll listen to all your requirements and discuss the best solution for your business. However much space you require, we can match you with your ideal temporary showroom and get it installed in no time at all.