Temporary luxury car showroom is extended by two years as result of pandemic
The Assignment
When HR Owen, the UK's leading luxury automotive retail group, decided to build a state-of-the-art showroom in Hertfordshire for their prestigious Bentley and Lamborghini brands, they needed a temporary car showroom and sales centre to allow them to continue trading while the new permanent building was under construction.
The new showroom building was scheduled to take 18 months to complete. Neptunus was appointed to provide a fast and cost-effective short-term solution to fit their car showroom space requirements that would avoid any interruption to day-to-day business.
The pandemic triggered lengthy delays to HR Owen's plans, ultimately extending their project completion date by two years. The setback, however, presented Neptunus with an opportunity to demonstrate the capabilities of their semi-permanent structure technology and the ability to offer longer-term space solutions if necessary.
Neptunus' stylish and flexible semi-permanent structures can be adapted to meet space requirements across multiple industries. In the automotive sector, Neptunus is building a growing reputation for designing high-quality temporary car showrooms.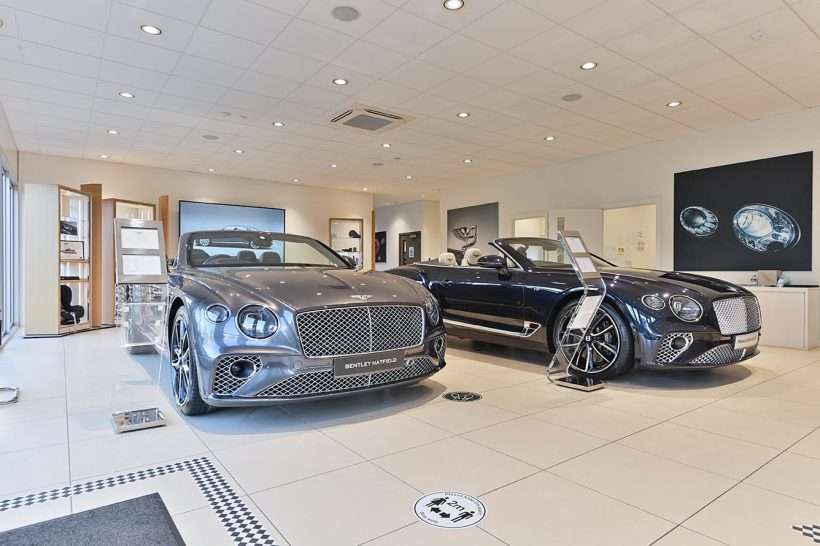 The Solution
Flexolution II, Neptunus' state-of-the-art temporary building, offers commercial operators the perfect solution to meet space requirements for multiple uses including temporary car showrooms, retail spaces, warehouses, office accommodation and much more.
It took an eight-strong crew of Neptunus technicians just eight days to build HR Owen's automobile showroom facility in readiness for the internal fit-out. Spanning nearly 450 square metres and 4.25 metres in height, the high-specification showroom building has the look and feel of a permanent structure.
The temporary structure includes large bespoke windows for maximum impact when viewing the cars, oversized doors to enable vehicle access and a stylish and comfortable interior for HR Owen's discerning customers.
HR Owen approached Neptunus after seeing a temporary showroom supplied to a nearby McLaren dealership. The McLaren building was dismantled and returned to our warehouse in Northampton. After cleaning, the structure was transported back to Hertfordshire to form part of the new temporary automobile showroom for HR Owen.
Because Neptunus' temporary buildings are easy to take down, move and rebuild due to their modular structure, relocating such facilities is a straightforward process. This also means buildings are reusable and offer a level of sustainability previously unseen with other temporary structures.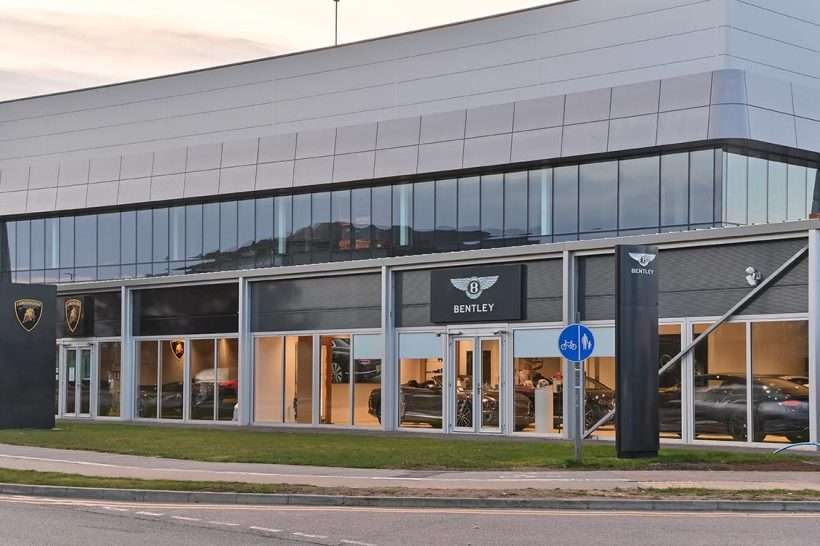 The Challenge
Speed was essential as HR Owen urgently needed a temporary showroom that could be constructed within a tight time frame. It was also critical that the floor was sturdy and rigid to accommodate a ceramic tile covering and able to cope with the weight and movement of cars being driven in and out of the facility. To account for this, Neptunus installed additional floor joists and support points beneath the floor to reduce movement and protect the tiles.
The lack of heavy machinery required to construct the facilities meant Neptunus was able to meet the needs of HR Owen's car showroom space requirements with urgency.
The delivery schedule for their new showroom was constantly adjusted because of the exceptional circumstances of the pandemic and Neptunus extended the hire of the temporary showroom building several times to accommodate their requirements.
The Verdict
Ian Lewis, Sales Manager for Bentley at Hatfield, says: "The purpose of the temporary building was to provide our customers and our staff with a stylish facility that is in keeping with the luxury brand of Bentley and Lamborghini while our new sales centre is being built. The interior specifications in this temporary showroom building are amazingly high and of a standard that you would expect to see in a permanent showroom.
"Naturally, our temporary sales centre is much smaller than our permanent showrooms and we are therefore restricted on the number of cars that we have on display at any one time. However, this has not hampered our performance.  It's just meant that we have had to be smarter in the way that we operate the showroom to maximise the space available and to carefully manage the movement of vehicles in and out of the building.
"Our customers obviously know that there is an exciting new sales centre on the way but that in the meantime we are working from a temporary facility. This has certainly not put them off at all. We may have fewer of our luxury cars on view inside the temporary facility, but it still has the look and feel of a permanent building.
"Of course, no one could have foreseen the pandemic and its implications. All our original plans revolved around an 18-month period where we would operate from the Neptunus structure but ultimately this has been extended by around two years. However, Neptunus has worked with us to extend arrangements to meet our requirements and this high-spec facility continues to reflect the standards our customers expect when they are purchasing luxury cars.
"The temporary car showroom facility has been split in two with a dedicated area for Bentley and a dedicated showroom for Lamborghini. Each showroom is fully branded with its own customer areas, offices, customer and staff toilets and a small kitchen. HR Owen has around 30 luxury car showrooms and aftersales and servicing centres around the UK for brands that also include Aston Martin, Ferrari, Rolls Royce, Maserati and Bugatti. We also have an independent used luxury cars sales centre.
"If temporary facilities are again required across the group in the future, I'm sure we won't hesitate to turn to Neptunus for their temporary showroom solutions."
These products were used in this project: