Hospitality sports structures
If you're hosting a sporting event, getting the hospitality structures right can mean the difference between a memorable occasion and one that fades into the background like all the rest. The right sport structures can not only provide players with the optimum environment to prepare for the challenge ahead but can enhance visitors' experience of the event too – offering somewhere to relax, shelter from the weather, and even leave them wanting more.
When it comes to hospitality structures for sporting events, Neptunus is in the premier league. Thanks to the numerous designs, sizes and combinations of marquees, pavilions, halls and temporary buildings, there is always a solution that fits in perfectly with your sports needs and event.
Why might I need a hospitality structure for my sporting event?
If you're hosting a sports event where you temporarily need additional space, whether it's for a press tent, VIP area, catering facilities or promotion village, we can provide anything from single marquees to entire hospitality complexes.
We have previously supplied temporary structures for many well-known sports events including the Olympic Games, the Hockey World Cup, Wimbledon Tennis Championships , football matches, golf tournaments, sailing competitions, car rallies and horse riding events.
We are the official supplier to the Netherlands Olympic Committee (NOC*NSF) and preferred supplier of the Dutch Football Association (KNVB).
What event tent sizes do Neptunus supply?
Our sport structures start from 3x3m marquees through to temporary sports buildings measuring up to 20,000 sqm. They can be used on their own or combined with other Neptunus products to create the perfect all-encompassing solution for your event.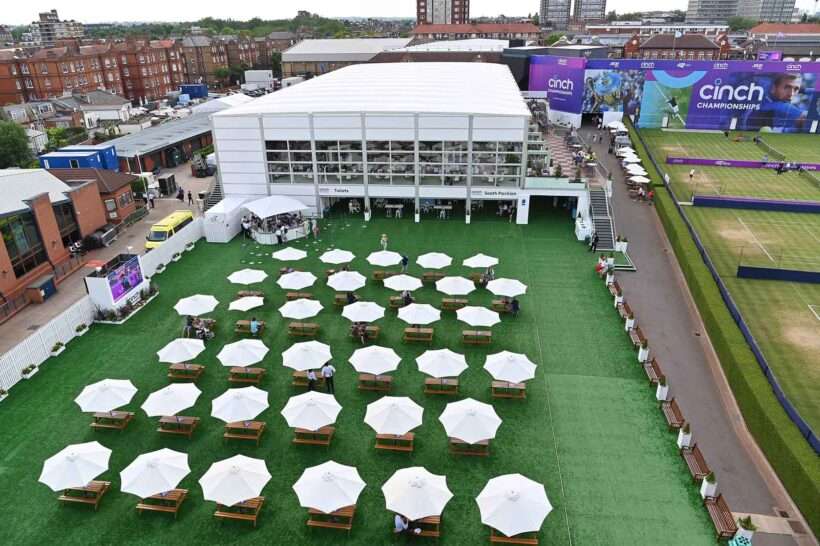 Neptunus sports structures can be used for:
New super-size hospitality facility for tennis fans at LTA's cinch Championship 2022
Temporary Swimming Pool for Commonwealth Games
Prestige Ticketing Ltd (Olympic Park – London)
What sports structures do Neptunus offer?
What don't we offer? From pavilions to triple-deck structures and undulating roof membranes, we have supplied every and any possibility of sports buildings to numerous events across the globe. The sky's the limit. Here are just some of the options available:
Classic events hall: The Alu Hall is a multipurpose, clear-span structure that can be used for any event, such as a hospitality area, and can be linked with any other Neptunus sport structures to create a larger area.
Marquees: Our Mercury and Saturn marquees combine innovation and style, providing an impressive and inviting area for your visitors to relax, while keeping them out of the weather.
Multi-story floor options: The Mezzanine creates an impressive extra floor in any sports structure and can be used for any number of purposes, such as a VIP area, conference room or lounge area.
View our complete range of sports structures here.
Sports structures from Neptunus
Whether you are looking for football tents, rugby tents or any other sort of sports tent, our range of hospitality structures is extensive. You may already have a vision for your event, or perhaps you'd like us to give you some ideas – we can work together to make your event one to remember.
Want to know more about sports structures from Neptunus?
Every sporting event is different, which is why we'll provide a customised solution for you.
If you'd like more information on our sport structures, or would like to find out how we can help make your sporting event one to remember, please don't hesitate to get in touch. Our expert, friendly team can't wait to show you what's possible.
Interested in sport events?