Royal Ascot: temporary hospitality structures
The Assignment
Royal Ascot is the jewel in the crown of the British summer season, attended by Her Majesty The Queen, the racing elite and the general public all keen to enjoy the spectacle of this elegant annual festival at the world's most famous racecourse.
Ascot Racecourse tasked Neptunus with providing a hospitality area capable of accommodating between 800 and 1200 guests each day of the week-long event which ran from Tuesday to Saturday.
Providing an oasis of relative calm, the Ascot Village was situated in a quiet location on the centre of the track but with up-close views of the Royal Enclosure, and the ability to view the traditional Royal procession and all the racing action from the grounds immediately in front of the stylish facility.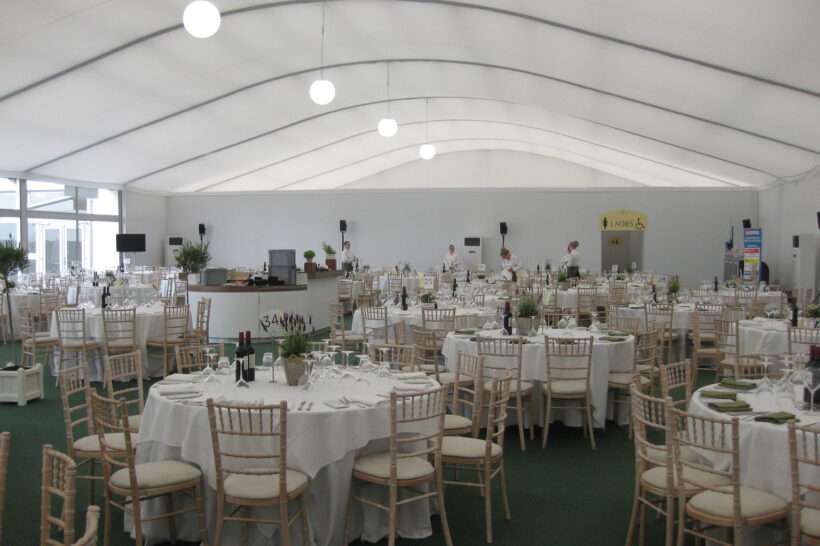 The Solution
Neptunus installed three Alure Globe structures which, with higher sidewalls of four metres, sleek lines and innovative curved roof, are ideally suited to creating a high-end impactful temporary building for the exclusive Ascot Village.
Offering 2500 square metres of space, the structures were all lined, carpeted, climate controlled and lit by Neptunus, which also organised generators to power the facility, washrooms and decking walkways.
Neptunus was able to offer visitors first-class views of the imposing grandstand and garden area via its oversized glass panels, which also gave the structure a polished, modern finish. Access to the viewing bank offered visitors unrivalled views of the Royal procession.
In addition to the front-of-house dining area, Neptunus also provided 630 square metres of kitchen space, staff and service areas.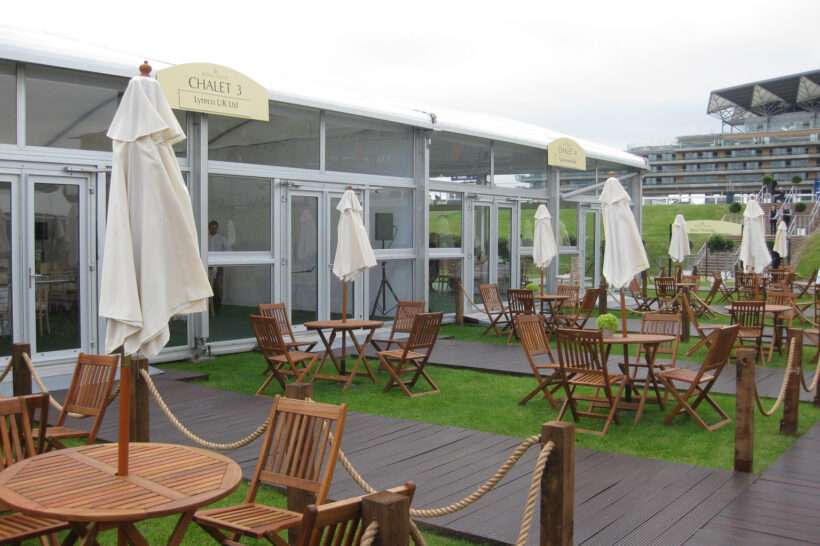 The Challenges
The Ascot Village had to be installed quickly and cleanly in order not to disrupt the usual operations of the racecourse and to protect the grounds, which are maintained to the highest level for the venue's planned events throughout the year.
The external and internal finish had to reflect the central position of this important structure, which was positioned directly opposite the main Grandstand, including a viewing area adjacent to the Winning Post and offering the best views of the Royal Procession.
Neptunus' team of 20, including all of the sub-contractors who were brought on site to provide electrics, air condition, washroom facilities and garden décor, was able to complete the build programme in two weeks, and then swiftly remove the structures again in just one week.
The Verdict
Neptunus' experienced team ensured racegoers were treated to an exquisite day of hospitality in the comfort of the elegant surroundings of the Ascot Village, which was operated by Smart Group Ltd.
Ascot's Head of Facilities John Potts said Royal Ascot was the 'best he'd seen', adding: "Without Neptunus' attention to detail and commitment to delivering an excellent service we would not have been able to make the event the resounding success it was."
These products were used in this project: