Temporary Film Studios
Built for purpose, our temporary film set and television studio structures are designed to meet the highly particular and time-critical nature of the production sector.
Our custom temporary structures provide unrivalled speed of construction and suitability − both as standalone solutions and complementary extensions to existing infrastructure, offering an affordable, sustainable alternative to a traditional production and workshop set.
In a demanding and ever-changing industry, our temporary production studios cover every possibility.
Why should I choose a temporary studio?
Appropriate filming space across the country is limited and the rigours of building a film studio are neither time nor cost-effective for many production outlets.
To save the time, hassle and unnecessary cost associated with building your own television studio, we create temporary production facilities that meet the demands and standards of the job at hand, while offering all the adaptability that is required in the industry.
Additionally, by opting for a temporary film set, you are not restricted to one location. Our structures can be relocated and tailored to ever-changing requirements. Our structures can be used as sound proof TV studio or an insulated work shop and can be repositioned in a new location should requirements and or sets change.
WHAT ARE THE BENEFITS OF A TEMPORARY PRODUCTION STUDIO?
Tight deadlines, changing conditions and diversified on-set requirements are typical of the TV and film industry. Our temporary production studios are designed with these factors in mind.
Permanent buildings can not always make practical or financial sense for the short-lived nature of many productions. With us, your investment lasts as long as your project. That's why our temporary film studios are the perfect solution for the TV and film industry.
With any Neptunus structure you'll benefit from:
Large, clear span structures that are flexible in design

Long-term solutions, spanning from months to years

A sustainable building solution that will be recycled once it's not in use

Rapid build and design to meet tight project deadlines

Temporary structures with the appearance and properties of a permanent building

Energy Label A-rated production sets
Temporary concert venue for Verbier Festival
Temporary TV studio for Urdd Eisteddfod T festival
Permanent buildings can not always make practical or financial sense for the short-lived nature of many productions. With us, your investment lasts as long as your project. That's why our temporary film studios are the perfect solution for the TV and film industry.
Why choose Neptunus for temporary television and film studios?
In the 80 years since Neptunus was first founded, we've designed and constructed temporary structures across the UK for a whole host of production companies. Whether you're looking for your next film set or wanting to build a state-of-the-art television studio, we have structures to suit you.
At Neptunus, we tailor our structures to your individual needs and always put our customers first. We're passionate about customer service and are always happy to hear from our valued clients. You can rest assured you're in safe hands with Neptunus.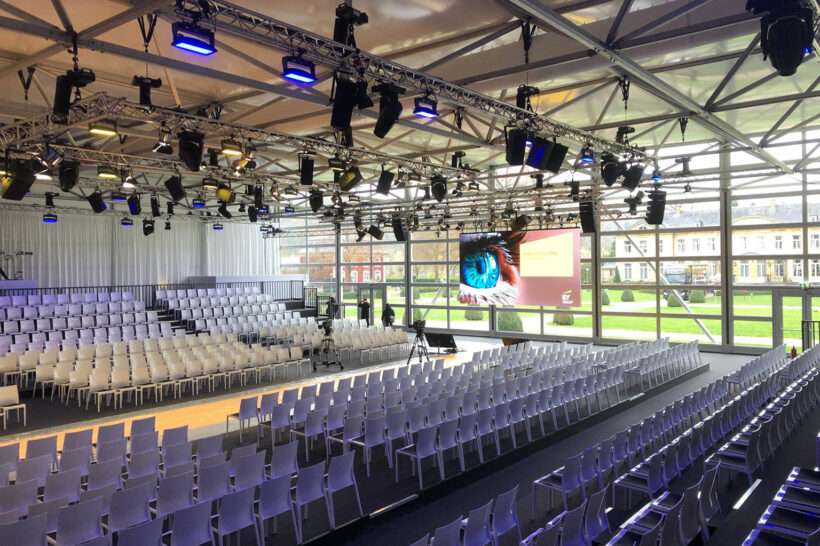 What type of production studios can Neptunus provide?
We have structures to suit virtually any temporary film studio or television studio.
Take our Evolution structure, for example. One of the most technologically advanced temporary structures on the market, the Evolution provides flexible height range and clear span (up to 17m and 50m respectively), mezzanine-level installation, insulated walls, rigid flooring and a fixed solid roof.
When it comes to production, the Evolution offers outstanding security, soundproofing and acoustics. These credentials were on show when it took centre stage at NATO's 70th Anniversary Summit, as well as multiple other key summits in Poland, Germany and Belgium. Across Europe, we have built temporary TV and film studios for both short-term and long-term use including recently for The Dutch Royal Family.
An existing solution that eliminates ambient noise and can be tailored to required decibel levels, the Evolution also boasts extremely quick assembly time thanks to hydraulic lifting technology. This makes it the perfect temporary film set or tv studio choice.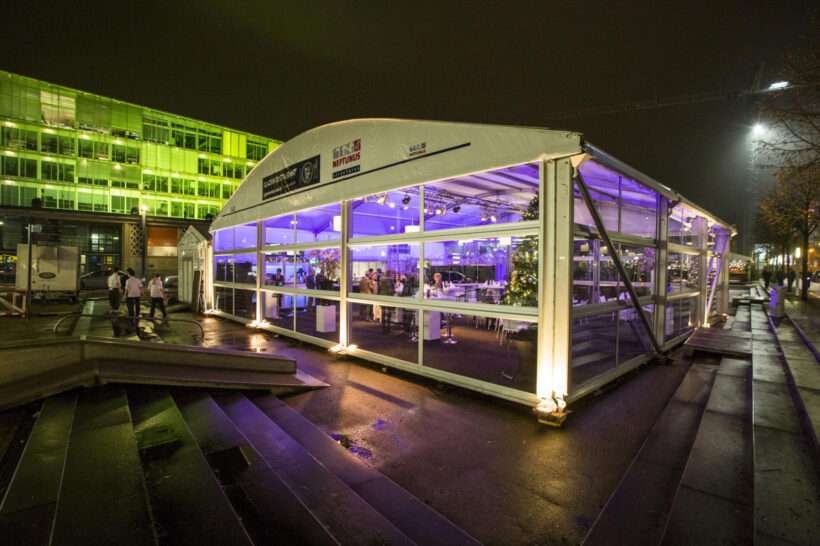 How quickly can the production sets be erected?
We understand that time is of the essence when it comes to production. Our temporary TV and film studios are created with that in mind. Assembled in as little as 48 hours, our structures can be assembled and ready to go anywhere in the UK.
Will I be able to tell the structure is temporary?
No, all of our structures have the appearance of a permanent structure but with the added bonus of being easily dismantled or adapted.
Our temporary studios can be adapted and changed to suit your needs. If you need an extra floor or additional rooms, that's no problem.
How long can temporary film studios be used for?
In short, it depends on the project. We know the nature of the industry means that some structures will be needed for a few weeks or months, and some will be required for years.
Our structures and temporary TV studios can be used anywhere from a few months to a few years. It's entirely dependent upon your needs and the project in hand.
We understand that sometimes projects run over, too. That's why we don't put a timeframe on the structure – it will be there when you need it and not when you don't.
Do I need planning permission for temporary production sets?
Any building that is in use for more than 28 days will need planning permission, and this includes temporary film and television studios. If you need any help and advice with planning permission or how to go about it, get in touch with our team who will be happy to offer expert advice and guidance.
Do building regulations apply to temporary production sets?
Yes, building regulations apply to all temporary buildings, which includes any temporary TV or film sets. At Neptunus, we have a team of expert technicians who will handle the compliance side, no matter how complex the project is.
We'll focus on ensuring the structure is compliant, while you concentrate on creating great TV and film.
Can I extend or relocate the set?
Yes! Thanks to our modular design, our temporary TV and film sets can be relocated or extended. Thanks to our Evolution and Flexolution technology, extending and relocating is easy. If you're looking for optimum flexibility, our Flexolution structures offer maximum flexibility in terms of design and execution.
All of our structures can be fully dismantled and reused, making relocations simple. We are able to move the structures between two towns to save having to build two different structures.
Because of this ability to reuse these structures, Neptunus is a sustainable, renewable option. Just speak to one of our expert technicians and they'll be happy to help you plan any relocations.
Want to know more about our temporary film studios and TV production sets?
We understand that every project is different, so whatever your needs or requirements, we can provide a customised solution for you. Why not get in touch with our expert team and we'll show you what we can achieve together.
Want more information about our temporary studios and other services?