Neptunus builds temporary studio for Urdd Eisteddfod T festival
The Assignment
As one of Europe's largest touring youth festivals, The Urdd National Eisteddfod attracts tens of thousands of visitors daily to an annual cultural celebration of the Welsh language with competitions that focus on activities including song, dance and performance art. In previous years Neptunus has created a massive bespoke venue with numerous temporary stages, theatres and support facilities for the thousands of young people taking part and the huge number of visitors who attend.
The Covid-19 pandemic meant that in 2020 for the first-time organisers had to cancel their 'live' event and replace it with a virtual festival…Eisteddfod T. In 2021, still in the grip of pandemic regulations preventing large gatherings, organisers were keen to maintain the touring ethos of the Eisteddfod while accepting that once again the event would need to be staged in a digital format – without visitors – and viewed only via TV and Online broadcasts.
Neptunus was asked to create a temporary television studio at the Urdd's residental centre  at Llangrannog, Ceredigion, where Eisteddfod T could be filmed and broadcast to audiences. Ceredigion is regarded as the centre of Welsh culture with over half the people living in the region speaking the Welsh language. Eisteddfod T attracted more than 13,000 competitors and contributors in 134 competitions. Audiences joined in the fun, with 37 hours of live broadcasting on S4C and 25 hours on BBC Radio Cymru and BBC Radio Cymru2, along with countless activities on the Urdd Eisteddfod App and social media.
The Solution
An eight strong crew of Neptunus technicians took just one day to build a 100 square metre Alure temporary structure to accommodate the studio which was then fitted out internally with lighting and power to meet the requirements  for high quality productions.
With the glorious Cardigan Bay coastline as a backdrop, Eisteddfod T's main studio and daily ceremonies happened live on location at Llangrannog, whilst adhering to Covid-19 restrictions, and some individual performances had been re-recorded in broadcasting studios.
An external decked terrace with screens adjoined the temporary studio  to enable outside broadcasts against the spectacular Cardigan Bay backdrop.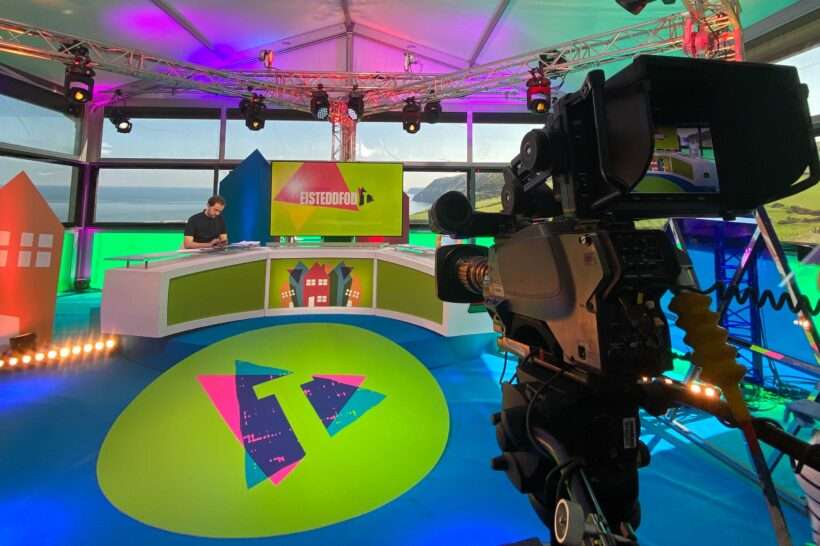 The challenge
Over the years Neptunus' technicians have built stunning temporary festival venues at a number of rural locations around Wales. They are vastly experienced at transporting huge amounts of equipment and erecting temporary structures on green field sites and on undulating terrain.  The biggest challenge for the  2021 project team to overcome was negotiating equipment deliveries through a very narrow entrance to the cliff-top site.
The Verdict
Siân Eirian, Director of the Urdd Eisteddfod and Arts, said:  "As organisers we are thrilled that the Urdd residential centre in Llangrannog hosted this year's Eisteddfod T. It is an iconic location in Wales that holds fond memories for many generations and by bringing in temporary staging and structures, being able to hold the festival's main studio and ceremonies from Llangrannog was a bonus, too.
"We'd like to thank Neptunus for all their support and customer care as we planned the festival and for providing  high quality structures. We look forward to working with the team again very soon in preparation  and planning for when the festival returns to a green field site next year."
Images: ©S4C
These products were used in this project: