Temporary Airport Terminals
Additional buildings are often needed at airports. From temporary aircraft hangars to full airport terminals, there are various applications for interim structures on an airfield.
For instance, the airport may be particularly busy, with more people than usual flying during the peak season. Here, a new temporary airport terminal might be needed to accommodate passengers. So, if you're searching for suitable temporary airport buildings, we can provide a solution that meets your needs.
At Neptunus, we provide building technology that delivers instant solutions for airports where there is an urgent need for additional space or facilities. Whatever the reason, whether the airport is being refurbished or new areas are being added, we offer short-term structures that are tailored to your needs.
We've successfully worked with international airports in The Netherlands, Germany, Hungary and Malta, and can adapt to suit the needs of each task. Additionally, structures can be provided as a turnkey solution from an empty car park to a fully operating temporary airport terminal. We'll make sure that your additional building is up and running in no time.
Run functioning airport facilities when you choose Neptunus
The flexibility of Neptunus' temporary structure technology means buildings can be fitted out as terminal facilities. They can be adapted to form baggage handling operations, temporary aircraft hangars, or warehouses and storage areas. Whatever you need them for, you can keep these temporary structures in place for as long as you need them.
Like conventional terminal buildings, the structures of these new temporary airport terminals can be equipped to your specification and can accommodate check-in desks, luggage handling carousels, customs desks, and spacious and comfortable passenger lounges.
For total peace of mind, all structures meet the very latest health, safety, and fire standards, and incorporate emergency escape routes. Additionally, the buildings are fully demountable and can be relocated after use, as well as benefitting from air conditioning and heating. They can be hired or purchased and be built on most sites and surfaces.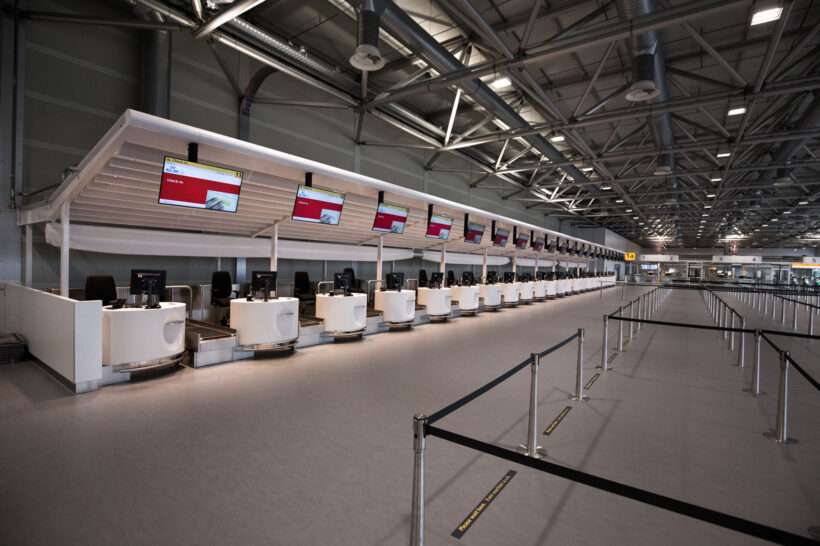 The advantages of a temporary terminal:
Equipped with facilities such as check-in desks, luggage handling, comfortable departure lounges and customs provisions

Can be used as temporary aircraft hangars

Rapid delivery and build times

Operational life from a few months to several years

Fully insulated and ventilated

Sustainable: Can be fully dismantled and reused

Modular: Flexible dimensions and design

Appearance and characteristics of a permanent building

Turnkey solutions from concept and execution to handover
Demountable Terminal Budapest
Temporary terminal Berlin Schönefeld Airport
Terminal Magdeburg–Cochstedt
Reasons to add a semi-permanent terminal
When is a temporary new airport terminal a useful addition?
The existing airport has insufficient capacity
For expansion projects without the need to build permanent terminals
To bridge a gap for a specific period, such as during renovation works or the construction of new terminals
For extra temporary space during peak seasons or during major events such as the Olympics
To replace or extend existing facilities
In the event of serious damage, such as a fire in airport terminals or hangars
The existing airport requires a temporary test facility
These are just some examples and there are many reasons why a temporary terminal might be beneficial. For information or advice about adding a semi-permanent airport structure, contact a Neptunus representative.
Flexible airport structures
Our temporary airport terminals and aircraft hangars are available in a range of shapes and dimensions. We work with you to find out exactly what structures you need and use our building solutions to suit the application. Whether you need more space for passengers while building work is carried out or you're expanding your airfield, we'll work with you to build what you need.
We pride ourselves on delivering sleek, versatile structures that stand the test of time. From military airfields and private providers, mainstream airlines and world-renowned airports, we cater for every type of aviation service.
Add airport test facilities
Right now, there is demand for airport test facilities. If you need to ensure you're following current guidelines at your airport, temporary test rooms can be added to accommodate passengers entering your country.
We'll meet your requirements and help maintain social distancing. Speak to our team about adding testing spaces at your airport.
Do you need a new airport terminal?
We understand that there are different reasons to add a temporary terminal. We are happy to help you add the structure you need to meet your goals, whether these goals are to maintain passenger flow or house aircraft.
To find out more, visit our contact page and request a callback. Alternatively, you can speak to our sales team at our Northampton office over the phone or via email and we'll give you quick, no-obligation advice that's designed to meet your requirements.
For mainland European enquiries, we have a number of offices located across the region. You can find contact details for all international offices here.
Interested in airport terminals?