Temporary terminal Magdeburg-Cochstedt
The Assignment
Originally built in 1957 as a Soviet Airforce base, Magdeburg-Cochstedt airport is located in the Saxony Anhelm region of Eastern Germany. The airport gained a civil aviation license in 1994 however; operations were suspended in 2001 due to insolvency. Following the acquisition of the airport by Danish company, Development A/S in March 2010, the airport has undergone investment and development, attracting airlines including Ryanair which is offering flights from Magdeburg-Cochstedt to a number of popular holiday destinations.
The airport commissioned Neptunus to build a cost-effective, modern and functional extension to accommodate additional passengers and provide extra facilities.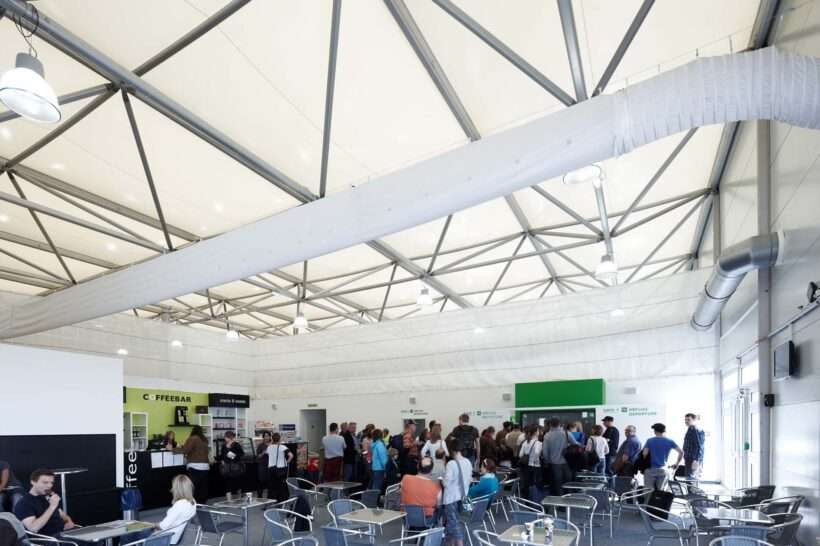 The Solution
Neptunus connected a 900 sq m semi-permanent Evolution structure to the existing building to create a larger open plan terminal all under one roof in just a few weeks. Characterized by bright and spacious areas, the layout of the Neptunus terminal is easy for users to navigate and offers a mixture of retail and food and drink facilities. Externally the structure has been fitted with black wall panels to provide a striking and contemporary look. The new section of the terminal has also been fitted with luggage belts and a customs area, providing customers with an efficient check-in and arrivals process.
Due to the modular nature of the structure, the terminal's capacity can easily and quickly be expanded to cater for increased traffic levels in line with the airport's growth.
The Challenge
An airport spokesperson comments: "Our vision was to create a terminal that was customer orientated, in respect of both our passengers and airline carriers, with a focus on low-cost travel yet still providing a comfortable and stress-free experience.
The Verdict
"Neptunus helped us to realize this vision within a very short period of time, enabling us to commence commercial operations sooner than we originally anticipated."
The extended terminal offers airlines the space they require for check-in and ticket desk areas and can accommodate additional offices and advertising space throughout the main footfall areas of the terminal.
These products were used in this project: