Multipurpose and performance temporary sports halls
When existing leisure facilities need major renovation work or a new build is required following a disaster such as a fire, one of our modular sports halls is the answer. Whether it's for recreational or professional use, we understand the quality of a sporting environment is paramount for its occupants. That's why each of our temporary sports buildings is designed to deliver the appropriate standards that are needed.
With fast build times, flexible contract options and long-term durability and quality guaranteed, our temporary sports structures mean high-end facilities can soon become available again for your users.
Speak to us today to find out more about a bespoke sports hall solution for your needs.
What are temporary sports buildings?
As a major player in the sports hospitality temporary structures sector, we know what it takes to deliver high-calibre environments for sporting performance, whether at an amateur or elite level. The same ingenuity and experience that goes into our hospitality, classroom and showroom projects can be found in the design of our temporary sports halls, which are built to last for as long as you need with no discernible drop-off in quality from your permanent facilities.
Our temporary sports buildings can be erected within a matter of weeks and can stay in place for months or even years should you require it. This makes Neptunus' sports halls ideally suited to establishments that require an interim solution while undergoing refurbishment or extension. Virtually indistinguishable from permanent sports halls, our constructions boast fully insulated roof and wall panels and incredible air permeability rating to create the perfect environment for your activities.
As well as offering exemplary intermediate stand-alone solutions, our temporary sports buildings can also complement existing facilities as extensions. Offering the flexibility to be built and dismantled quickly in line with fluctuating demand, we can ensure your sports hall need never be underutilised.
We offer several temporary sport structures, including:
Temporary sports halls
Temporary indoor courts
Temporary indoor sports centres
Temporary indoor gyms
Do you already know what to consider when building a temporary sports hall?
There are several aspects to think about when building a temporary sports hall. Which sports will be played? How many courts do you need? What standards does the hall need to meet? Our checklist guides you step by step through these and other important questions for your sports hall.
What are the advantages of using a temporary sports structure?
The beauty of our temporary sports structures lies in their ability to be delivered quickly and with minimal disruption. With rapid installation and build times, top-quality acoustics and insulation, outstanding long-term durability and offering complete flexibility as per your requirements, a temporary sports building from Neptunus allows you to continue your operations. This is something that was vitally important for The British School of Brussels (BSB) who required a temporary sports facility be constructed during the school holidays and be ready for when students returned from vacation.
Specially developed walls for optimal acoustics

Solid, raised flooring system or concrete floor

Fast delivery and build times

Operational life from a few months to several years

Sustainable: Can be fully dismantled and reused

Modular: Flexible dimensions and design

Appearance and characteristics of a permanent building
Sports hall for UK Defence Academy
Judo facility at The National Sports Centre Papendal
Performance Center Borussia Mönchengladbach
Temporary sports hall for Ludwigsburg University of Education
When would a temporary sports hall benefit you?
Our sports buildings are designed to meet several interim needs, ranging from additional capacity requirements to new builds following an unforeseen event.
One of our temporary sports buildings makes sense in various scenarios:
The existing facilities no longer meet requirements or there is increasing demand for extra space
To prepare for or facilitate large events, such as the Olympic Games
To replace or extend existing facilities
During building work following a disaster, such as a fire
When building a permanent sports hall is not an option, despite demand in a particular area
To cover an existing outside track
To temporarily increase capacity for a fixed period
We work across a variety of ever-changing industries, so we understand your requirements as a business and provider are constantly changing too. With that in mind, each of our temporary sports buildings is created to offer the flexibility you require in your delivery.
With any Neptunus structure, you have access to:
Large, free-span structures that are flexible in design
Rapid build and design to meet tight project deadlines
Long-term solutions, spanning months and years
Designed to suit your needs, robust and efficient, our temporary sports structures are developed with you to offer unparalleled affordability as an interim modular solution. Always quickly constructed to your needs and performing at an elite level, trust in Neptunus to offer the ultimate in the intermediate.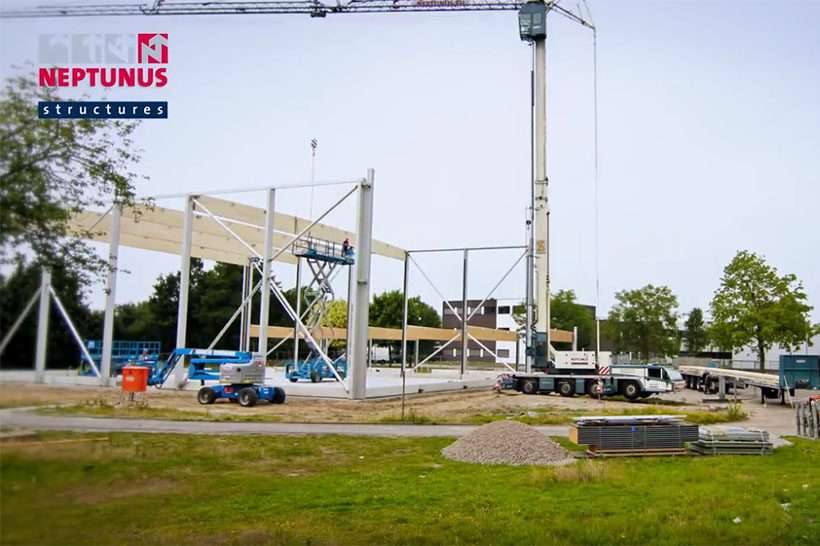 Temporary sports halls FAQ
Do building regulations apply to temporary sports structures?
Building regulations apply to any structure of this nature to ensure its safety and functionality, but this isn't something you'll need to worry about. The quality of our temporary and semi-permanent builds ensures they're fully compliant in all instances.
Can I modify a temporary sports hall construction once it's been completed?
We offer modular building solutions, meaning they can be extended, reduced or relocated as per your needs. It's that level of effortless flexibility that has made us one of the most trusted names in the industry. You can have full confidence that we can deliver on your requirements when different scenarios arise.
A temporary sports hall is the solution you need
Looking to take the next step towards an interim solution? Visit our contact page and request a call back regarding the temporary sports structure of your choice. Alternatively, you can speak to the sales team at our Northampton office over the phone or via email.
How long can our temporary sports buildings last?
As long as you need them to, whether that's days, weeks, months or years.
Take our ingenious semi-permanent Flexolution I structure as an example. With an operational lifespan of anywhere from a few months to 20 years, its build quality and integrity are virtually indistinguishable from a fixed, permanent building.
When you speak to our team, we'll be able to offer a suitable solution to suit your time frame.
Will I need to buy a temporary sports hall?
All our temporary sports buildings are available to hire or purchase, with flexible payment options available. You can either pay for the structure for as long as you require it or buy it outright.
Our structures are completely reusable and sustainable, so there is no obligation to buy your temporary building at the end of your contract.
Do I need planning permission for temporary leisure facilities?
Planning permission is required if you plan on keeping your temporary leisure facilities in place for longer than 28 days. If you're using a temporary sports structure as a longer-term solution, you'll need to seek planning permission before getting started.
Interested in sports halls?