Neptunus build sports hall for UK's Defence Academy
Outsourcing experts Serco specialise in public sector work and delivering critical support to military organisations around the world.  In the United Kingdom Serco supplies its services to the Ministry of Defence (MoD).
The Defence Academy of the United Kingdom, which is based in Shrivenham, near Swindon, provides world-class professional defence and security education to military course members from the MoD, wider Government, UK industry and overseas. The Academy plays a key role in developing the 'intellectual edge' needed to run successful Government departments and military operations.
A vital element for any education establishment is having access to a high-quality sports hall where Defence Academy Staff and military course members can keep fit and unwind away from the pressures of the classroom. Neptunus had previously provided a semi-permanent Evolution sports hall to the Academy and Serco again appointed the company to build an ultra-modern new sports facility that would ultimately be purchased by the MoD.
The brief was to provide a multi-purpose sports hall with an internal height of 7.6m to accommodate sports including badminton, basketball, five-a-side football, and volleyball in accordance with Sports England standards. Also, to create an additional activity zone for activities such as yoga, circuit training and for use as a spinning studio. An additional space was also required for use as an equipment store.
The Solution
Neptunus utilised the third generation of its Flexolution technology to erect a state-of-the-art multi-functional relocatable building to be used as a sports hall. The 9-metres tall hall, spanning 756 square metres, was adjoined to a 5-metres tall ancillary Flexolution structure, covering 378 square metres, incorporating changing rooms, equipment storage areas, the activity zone and an office.
The changing rooms required shower, toilet and changing facilities. Lighting, heating, ventilation, and air conditioning were installed to the client's specification and in line with building regulations. An air source heat pump was installed for the hot water system to achieve the desired SBEM/Co2 emission rate. The building has achieved an EPC rating of A for energy efficiency.
Flexolution buildings are cost-effective and fast to construct while being flexible and adaptable to accommodate a range of alternative uses, if necessary. An eight strong crew of Neptunus technicians took just four weeks to erect both buildings.  Neptunus delivered and managed the services for every aspect of the project including responsibility for developing a detailed design covering crucial factors such as building regulations, site location and MOD requirements.
Works were completed in accordance with industry and MOD standards, including:
DIO (Defence Infrastructure Organisation) Building Regulations
Compliance with JSP standards required for defence related projects
Defence Academy specific requirements for construction works
BAFE compliance with regards to fire safety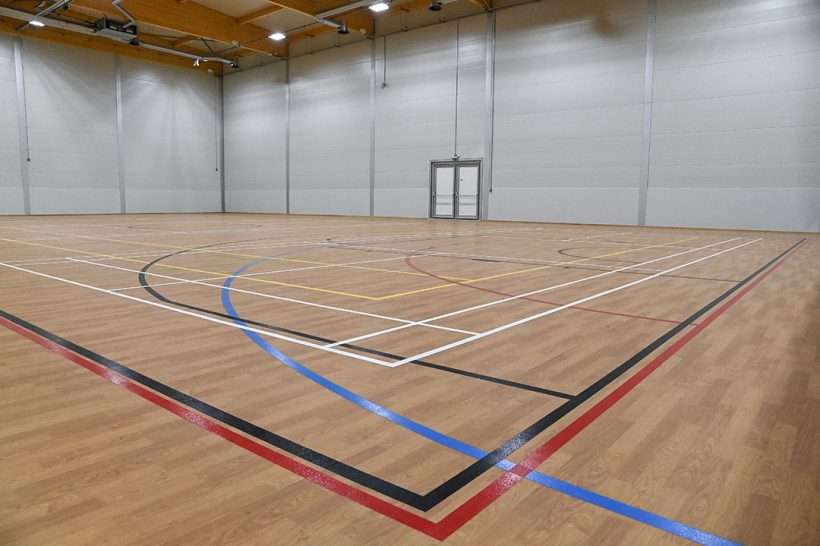 The Challenge
As a military installation, The Defence Academy is located on a secure site requiring Neptunus' technicians and contractors to adhere to strict protocols.  The project required meticulous planning for the smooth delivery of 275,000 kilos of equipment.
The build also took place during the Covid-19 Pandemic which meant that the construction process took slightly longer than originally planned as the number of personnel onsite at one time was strictly controlled.
Neptunus were also charged with managing all groundworks for the project.  This included all relevant ground surveys such as trial pits and ground testing. Neptunus' groundworkers installed a concrete ring beam and foundation pads finished with a power floated concrete slab. Works also involved installation of drainage and connection with existing services as well as installing ducting for services and supplies.
The Verdict
"The new facility will provide our client with a fantastic facility for various sports activities with the flexibility to accommodate numerous different activities simultaneously, to fulfil the ongoing needs of the Defence Academy." – Paul Dayment, Estates Project Manager (Mechanical), Serco UK & Europe, Defence
"Neptunus has completed construction of a new multi-purpose sports facility at the Defence Academy of the United Kingdom. The facility has enhanced on-site sports provision at Shrivenham and will support the health and wellbeing of our Defence Academy Staff and military course members." – Major Andrew Aitken, Station Executive Officer, Defence Academy of the United Kingdom
These products were used in this project: