The Mezzanine is the versatile multi-storey floor of Neptunus.
Do you need extra space in your event accommodation and lend style to your event at the same time? You can with our upper floors!
The Mezzanine is an excellent opportunity for a VIP Area, conference room, restaurant, lounge area or extra exhibition space. In any case, a place that impresses during your event. You decide whether you want to equip your temporary accommodation with a full or partial upper floor. The sky is the limit!
Efficient use of the available space

The carefully designed Mezzanines can be built into a section of the accommodation

The height creates an attractive view

Aluminium or stainless steel balustrade with glass plates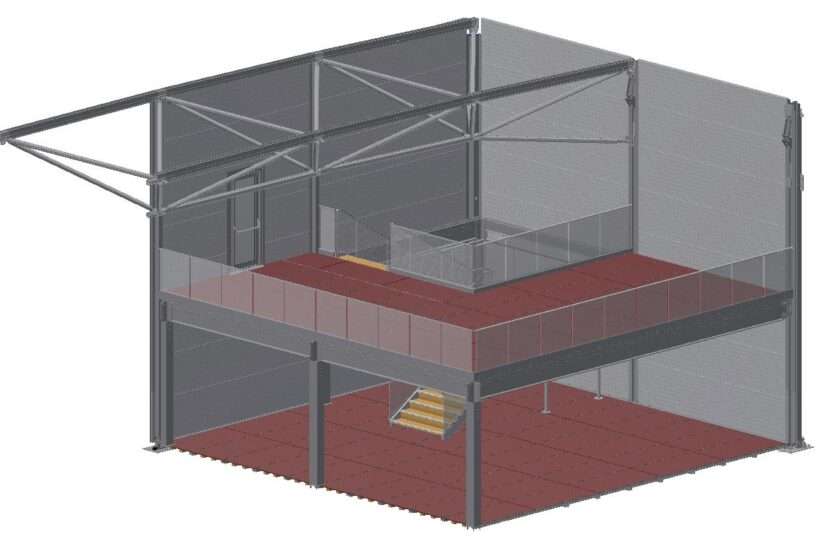 Mezzanine III (Aluminium)
The Mezzanine III consists of aluminium beams with Neptunus cassette floor.  The balustrade includes a continuous stainless steel railing fitted with safety glass. This mezzanine floor can be free standing at the perimeter – supported by the columns of the building and with minimum columns providing support on the ground floor we can maximise the use of space.
• The Alu Mezzanine can be installed in any accommodation.
• Height 3.5m or 4.6m.
• Width modules of 5m, 7.5m or 10m (the length is unlimited in 5-metre modules).
• Load-bearing capacity of 500 k/m2 in accordance with EN13782.
• Ideal for heavier loads.
TECHNICAL SPECIFICATIONS Mezzanine III
Mezzanine I (Steel)
The Mezzanine consists of steel beams and wooden floors, steel stairs and stainless steel balustrade frames fitted with safety glass.
• The Mezzanine I (Steel) floors have columns on the ground floor.
• Height 3.5m or 4.6m.
• Width in 5-metre, 7.5-metre or 10-metre modules (the length is unlimited in 5-metre modules).
• The maximum load per m² is 350 kilos, in accordance with DIN4112.
TECHNICAL SPECIFICATIONS Mezzanine I