Temporary Classrooms and Education Structures
Designed to meet the ever-changing needs of current regulations, modern students and education faculties, our temporary classrooms, and school and university buildings, are the perfect solutions you've been looking for. With a high-quality design, we ensure minimum disruption whilst creating an effective learning environment.
Our specially designed modular school classrooms are available in a host of sizes, ensuring your educational facility's needs are catered for, whilst also minimising disruption to the everyday activities of your students. No matter how much extra space you need, Neptunus has the right modular and portable solution.
We can build a modular school building with a fast and cost-effective solution that can also easily be connected to your existing building. This allows you to create extra space with a seamless link to your existing infrastructure.
What are temporary welfare/wet weather structures?
In a range of widths and lengths, they can be the perfect solution to covering a playground or quad space to provide additional usable cover.  Our temporary structures are modular and can be erected quickly with or without a level cassette floor to suit the location and your needs.
Structures can be fitted with and without side walls and in order to allow extra light can be fitted with glazed window panels.
Depending on size structures can be erected in a day and with 48 hours notice to minimise disruption to pupils, students, staff and parents.
With good planning and through working with you we are experts at providing temporary education structures in challenging locations and are happy to look at all possibilities.
play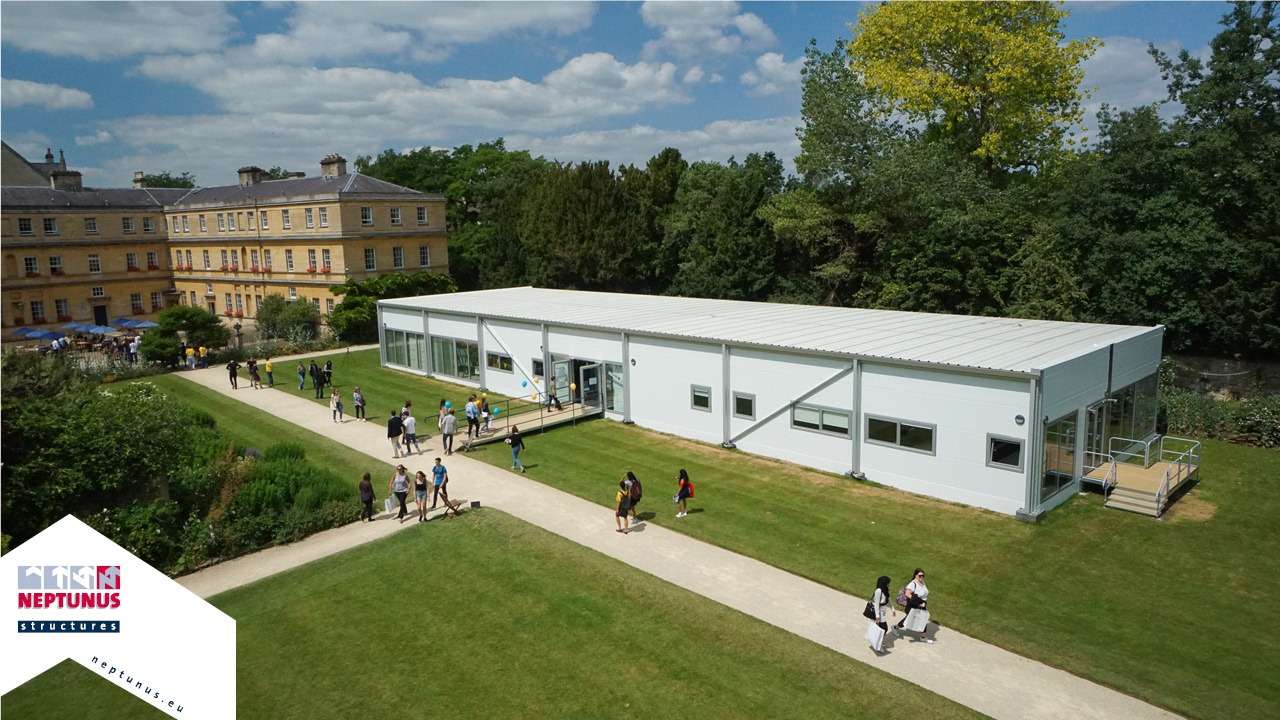 We can provide the following temporary education facilities with short lead times from 48 hours:
Playground and break time wet weather cover

Dining rooms and canteens

School sports halls or gyms

Common rooms and staff areas
Sports hall Maria-Ward School
British School of Brussels
What sort of temporary school buildings can Neptunus provide?
Founded over 80 years ago, Neptunus has been providing temporary buildings for educational faculties like yours for decades. Creating temporary solutions around the world, we have designed everything from classrooms, lecture halls and canteens, to accommodation areas and queuing covers. We can even provide temporary staff rooms and workplaces, as well as creches and sporting facilities.
If your university is undergoing renovation and you require temporary buildings while work is ongoing, then we can help, just as we did with Oxford University's Trinity College. Offering the college a dual-purpose solution using our Flexolution II technology, the 'Lawns Building' offered a much-needed multi-functional room.
Our Evolution aluminium structure has been used to transform spaces in no time at all. From creating dining halls with fully fitted kitchens, to temporary sporting facilities at the prestigious British School of Brussels. No matter what sort of temporary school building you require for your university or school, Neptunus can work alongside you to create the solution you've been looking for.
We can even work in conjunction with other building contractors to get the job done. This is what we did when creating a school sports hall in the UK. Whilst architects assessed the options for creating the extra space, we came up with a long-term solution and worked alongside a local building firm.
Do I need planning permission for temporary buildings for schools or universities?
Any building that is in use for more than 28 days will need planning permission and temporary classroom buildings are no different. If you need any help with planning permission or have any questions, contact our team for more information.
How long can temporary school buildings be used?
Our temporary education buildings can be used for a few months or many years. For example, when Neptunus was appointed to build additional lecture halls at RWTH University, they were scheduled to be in place for seven months but remained in situ for four years. In fact, our temporary solution was so successful, we've been asked to construct a replacement building for the German university.
Do building regulations apply to temporary classrooms or school buildings?
Building regulations apply to all temporary buildings including temporary classrooms and university buildings, but we can help with this. Thanks to our expert team of technicians we can help with the erection of your temporary school buildings – no matter how much of a logistical challenge it may be.
Can these temporary classroom buildings be relocated or extended?
The modular design of our temporary classroom buildings means they can be relocated or extended to suit your requirements. All the materials used in the manufacturing of our modular classrooms and semi-permanent university buildings can be recycled and reused for future projects. From the heating to the fire alarms, ventilation to the lighting. So, not only are you futureproofing your educational facility, but you're also helping to futureproof the planet.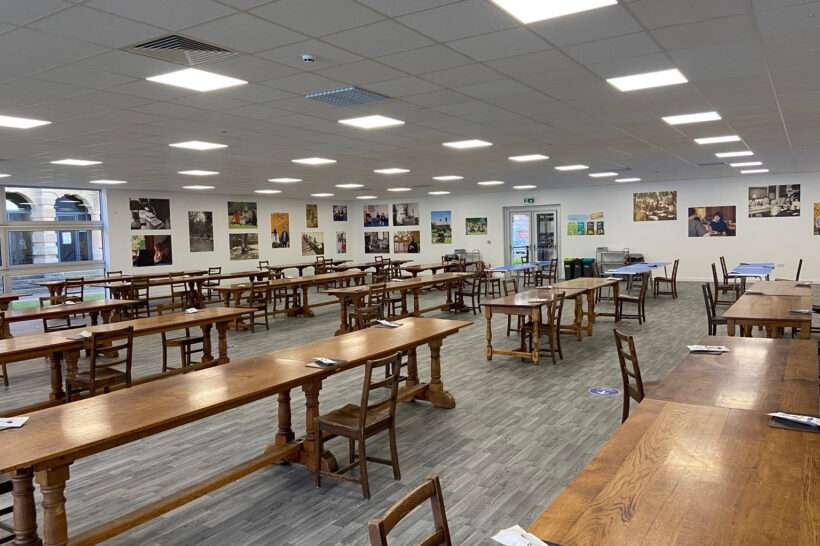 Want to know more about temporary buildings from Neptunus?
Whether you're looking for temporary lecture halls for your university campus or a semi-permanent education building, we have a bespoke solution for you.
If you'd like more information on our temporary school and university buildings, or would like to find out more about our range of products, please don't hesitate to get in touch. Our expert, friendly team can't wait to show you what we can do.
Interested in education structures?