Temporary dining hall Somerville College Oxford
The Assignment
Somerville College is one of the constituent colleges of the University of Oxford in England. Founded in 1879 as Somerville Hall, it was one of the first two women's colleges in Oxford, and counts among its alumnae such major international figures as Margaret Thatcher, Indira Gandhi and Dorothy Hodgkin. The college started admitting men in 1994 and is nowadays home to about 600 students, of which more than a third are international. It has one of the largest college libraries in Oxford and is known for its varied architecture and liberal atmosphere.
When, in 2020, the college undertook a 9-months refurbishment of their dining and kitchen facilities, Somerville urgently required additional temporary dining space while the development work was carried out.
After visiting a similar Neptunus project at Trinity College, Somerville College was convinced that the temporary structure specialist could bring up the ideal solution to the problem.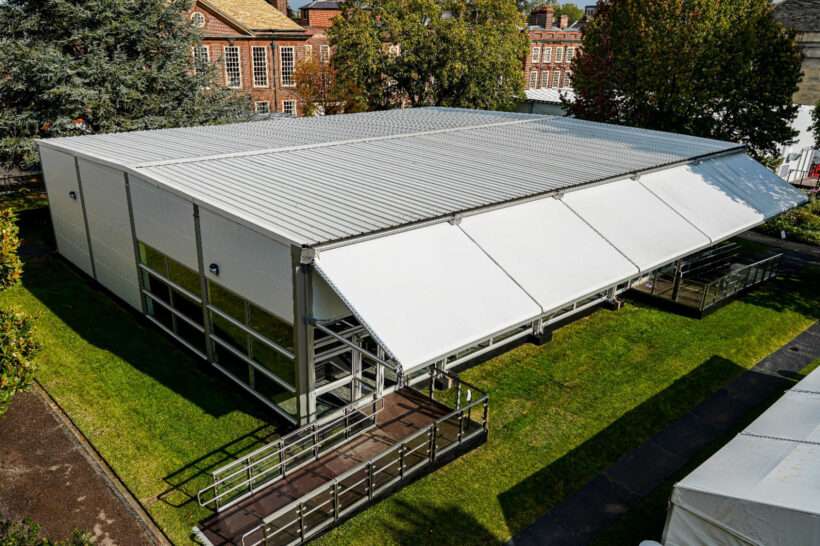 The Solution
The answer came in the shape of the company's Evolution and Flexolution technology offering the college a commercial kitchen (300 sqm), temporary dining hall (500 sqm) and 8m long corridor.
A six-strong crew of Neptunus technicians took just three weeks to erect the temporary building with solid roof panels. A further five weeks was required for the internal fit-out including internal walls, suspended ceiling, electrics, heating and ventilation. The internal walls were built to create private dining and staff room, staff changing rooms and a servery divide.
The refurbishment of the existing facilities and sourcing temporary facilities was led by TMD Building Consultancy. They approached Neptunus as Principle Contractor for their renowned reputation of building high-quality temporary buildings in such time frame.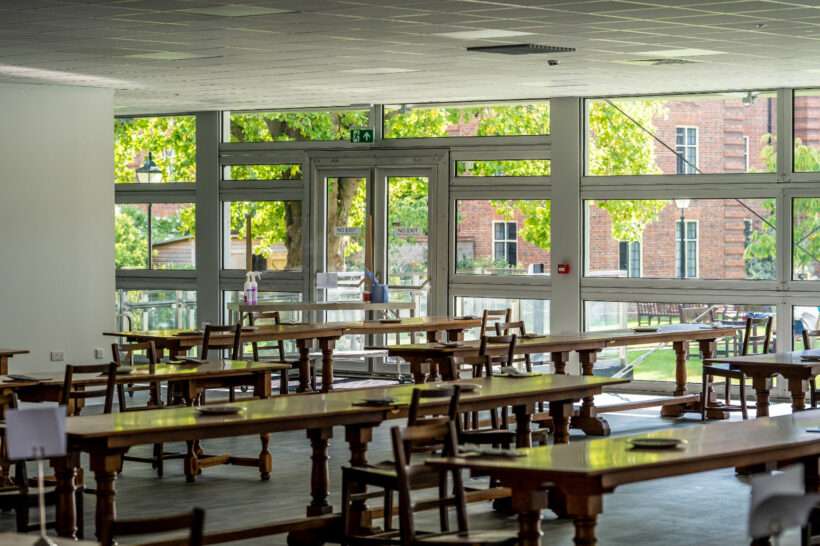 The Challenge
The installation of the temporary dining and kitchen facilities presented Neptunus' technicians with a complicated logistical challenge. The structures needed to be built around a number of protected trees in the college quadrant. Access was a challenge which was overcome with careful planning with the college.
The Verdict
Matthew Phipps, Somerville's Communications Manager, said, 'Our new temporary dining facilities feel so much more solid, welcoming and fit for purpose than we ever dreamt a temporary building could be. Neptunus were also able to respond swiftly and expertly in identifying the most appropriate building for our needs. Their Evolution structure was built at a remarkable speed given the size of the requirement, and the whole Neptunus team pulled together incredibly quickly, working hand-in-hand with our other contractors. We couldn't have asked for a better alternative to our beloved Hall."
These products were used in this project: