Whirlpool Temporary Showroom
The Assignment
Whirlpool, which produces a range of white goods from washing machines to dishwashers, ovens to fridges and hoods to coffee makers, required additional space to showcase its products at its UK head office in Peterborough, Cambridgeshire.
Over 1,000 people work for Whirlpool UK Appliances Limited at the location. The company needed an ultra-modern and spacious semi-permanent showroom to display its products to its vast distribution network. The facility needed to be in place for a period of 4 years.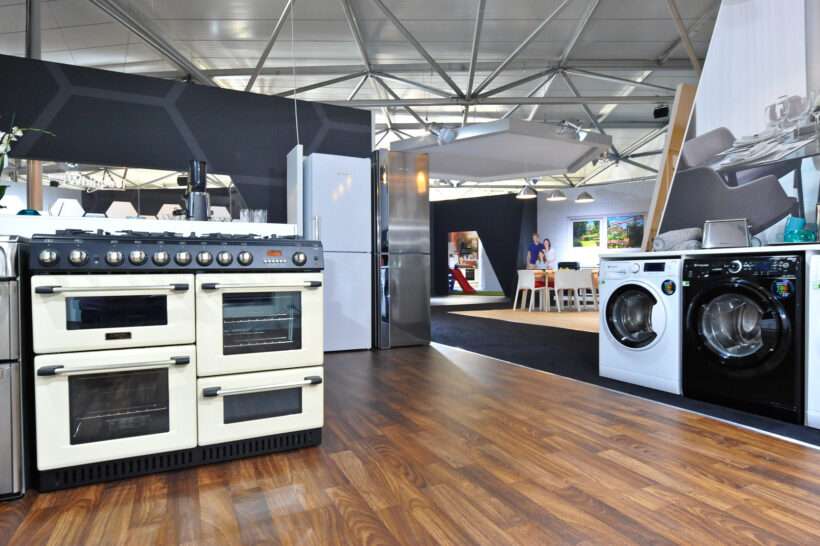 The Solution
Technicians from Neptunus took just a week to erect the building, on disused ground on the Whirlpool site, and a further three weeks for the internal fit-out of the state-of-the-art showroom.
The facility was created within one of Neptunus's Evolution II temporary buildings which covers over 1,000 square metres and stands on six metre legs with solid insulated roof and walls, and a glazed frontage.

The Challenge
In the past Whirlpool had used temporary structures to provide additional space but had experience issues with noise and movement in windy conditions. They turned to Neptunus to provide a stylish but sturdy semi-permanent showroom capable of withstanding high winds and noise, and which was more akin to a permanent building.
Importantly the building needed to be erected in a very timeframe and without interrupting the day-to-day operation of the business.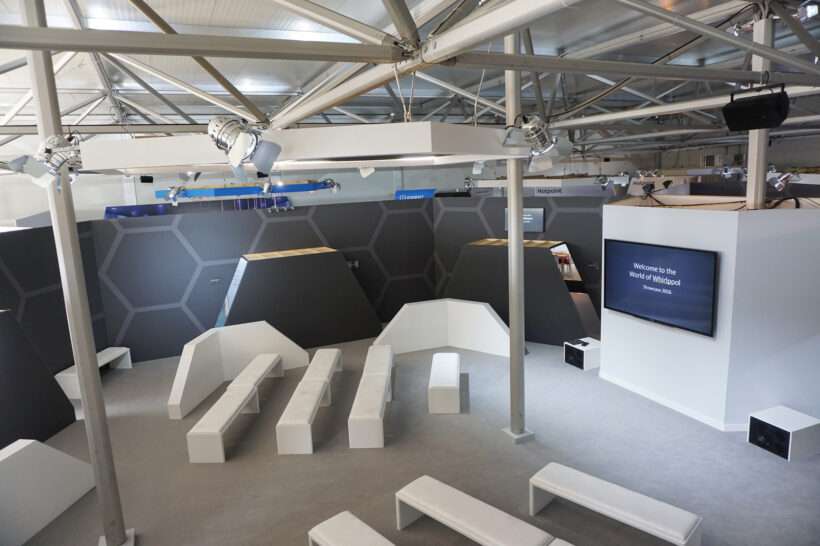 The Verdict
Jayson Weston, Whirlpool's Sales & Marketing Support Director, said: "Our previous temporary facility was affected by noise and movement in very windy conditions. We therefore required a much more robust building for our temporary showroom. We looked at alternative options and our research led us to Neptunus whose Evolution technology is far more robust and rigid than traditional temporary structures, providing us with a far superior and more comfortable environment to exhibit our appliances in."
The project for Whirlpool demonstrates the sturdiness and flexibility of Neptunus' Evolution technology. Buildings are ideal for a multitude of uses to provide businesses with swift and reliable solutions for their additional space requirements such as offices, conference centres, warehouses, supermarkets, dining halls, and sports halls.
When the initial 12 months hire ended, Whirlpool extended the contract by a further three years and have since re-fitted the interior with their latest product ranges. The showroom is in constant use as a showcase for all their products.
These products were used in this project:
Interested in temporary showrooms?