Flexolution II: modular building for retail, showroom or classroom space
The Flexolution II is a temporary building in the successful Flexolution range. Fully modular and demountable, it is ideally suited to use as a temporary supermarket, showroom or classroom; quick to construct, flexible, sustainable and reusable. Depending on size and layout, the Flexolution II can be erected within a few days or weeks and is easy to relocate. Like the Flexolution III, the Flexolution II is compliant with Building regulations and optimally insulated.
Modular building in terms of dimensions and design
The Flexolution II comes in 12, 15 or 18 metre widths. The length can be extended infinitely in 6-metre grids and the standard width increased by interconnecting structures. Available with a clear internal height of 2.4 or 3.4 metres. With an internal height of 2,4 metres, the modular Flexolution II can be built with one or two floors.
Just like a permanent building, the Flexolution II can be fully fitted out according to your requirements. Options include washroom facilities, kitchen units, interior fittings, lighting, heating, air conditioning, a range of floor coverings and industrial doors.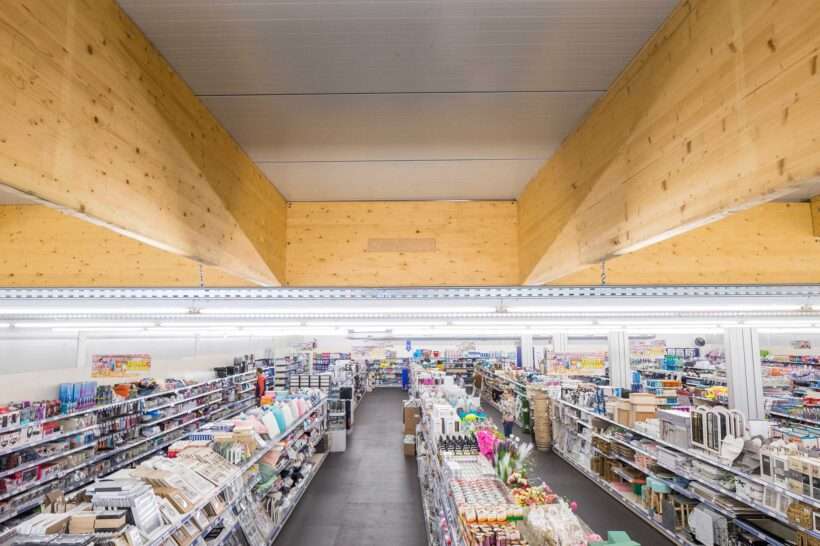 Sustainable and reusable materials
All the materials used in the Flexolution II are sustainable and reusable. The main structure comprises aluminium columns and laminated wooden beams. Meanwhile, the floor is constructed of a combination of steel beams and insulated wooden floor panels. Insulated sandwich panels make up the walls and roofs. The bolt-together assembly of the modular structure means there is no sawing or drilling is involved, which allows all parts to be reused after disassembly.
play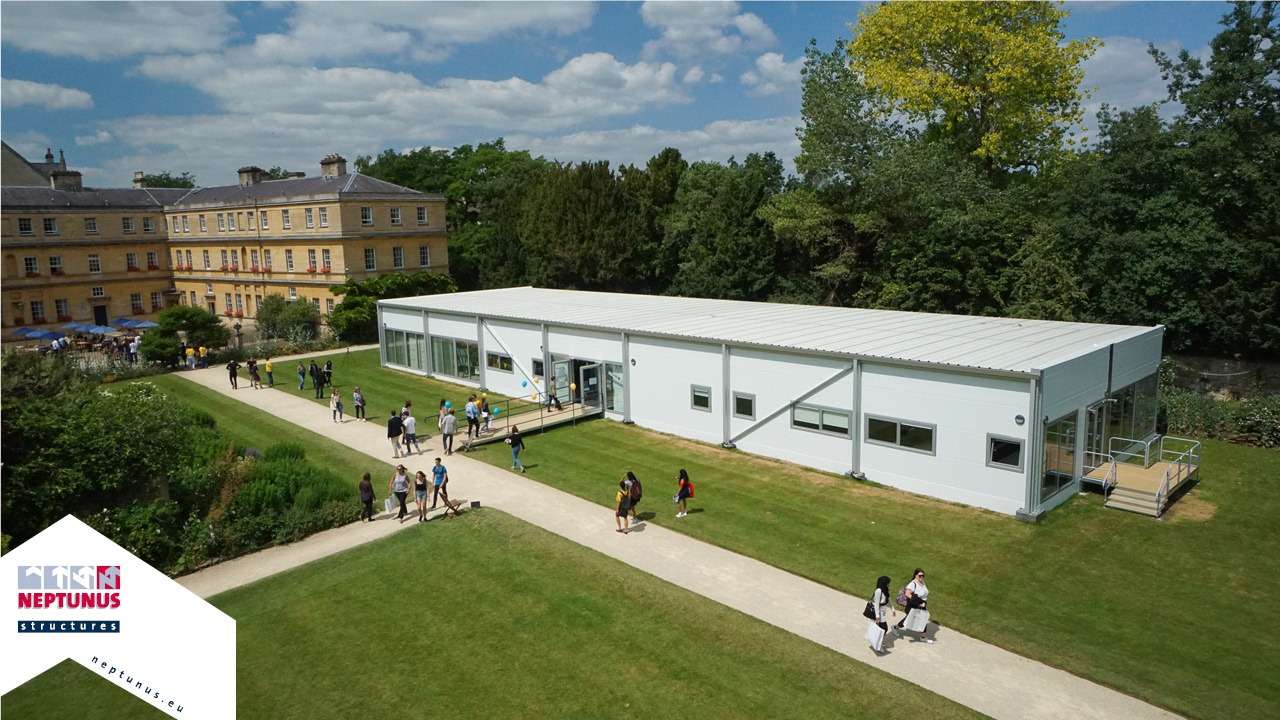 Fully demountable and reusable

Financial flexibility: available to rent or buy

Energy efficient – optimally insulated

Easy to partition

Compliant with Building regulations

Optimal acoustics

Modular – in terms of dimensions and design

Fast setup: completion in a few weeks

Fully customisable

Turnkey: full package from design and build to key handover

Life span of several months up to 20 years

Look and features of a permanent building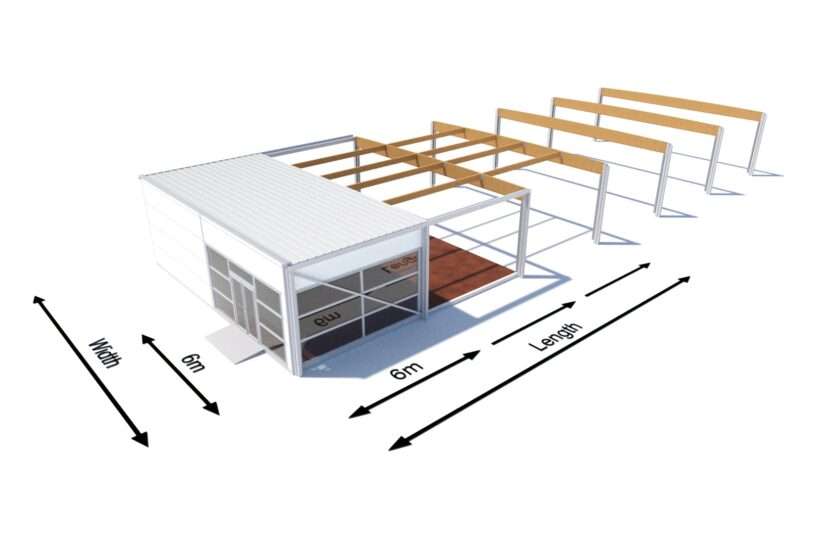 What is the Flexolution II suitable for?
The multifunctional properties of the Flexolution II make it the number one solution for retail spaces such as shops, pop-up shops, supermarkets and showrooms. Other uses include office buildings and schools or healthcare facilities. If you would like to find out how the Flexolution II could solve your space needs, please get in touch with one of our team.
Dimension
| | |
| --- | --- |
| Free span | 12, 15 and 18 metres (wider on request) |
| Clear internal height | 2.4 metres and 3.4 metres (other sizes on request) |
| Length | Infinitely extendable in 6-metre increments |
Insulation values
Type
Material
Thickness
R Value*
U Value*
Walls
Steel sandwich panels
120 mm
4,96 m2k/W
0,203 W/m2K
Roof
Steel sandwich panels
80/115 mm
3,29 m2k/W
0,299 W/m2K
Floors
Insulated wooden panels
202 mm
2,85 m2k/W
0,351 W/m2K

* Minimum value

With a wooden floor, a foundation may not be required, subject to site surveys
Also available with concrete floor (not demountable)
Building regulation compliant
Customisation possible

For more technical specifications, see the technical brochure:
Why the Flexolution II is the number one temporary building
Are you interested in the Flexolution II?