Temporary building as a multi-functional room for students
The Assignment
Originally founded in 1555, Trinity College is one of the constituent colleges of Oxford University. When, in 2019, the college undertook a major 3-year new build programme to transform the college with new academic facilities and residential accommodation, Trinity urgently required additional temporary space to meet the needs of students while the development work was carried out.
Trinity turned to temporary structure specialists Neptunus to find the ideal solution to the problem.
play
The Solution
The answer came in the shape of a bespoke Flexolution II temporary structure offering the college a dual-purpose solution. For two years the temporary 'Lawns Building' was designed as a Reading Room and multi-functional room for students. In the third year it will be transformed into a kitchen, dining room and senior common room. The temporary building also incorporates toilets, offices and auxiliary spaces.
A six-strong crew of Neptunus technicians took just two weeks to erect the 500 square metre Flexolution II temporary building. A further five weeks was required for the internal fit-out including stud walls, suspended ceiling, flooring, plumbing, electrics, heating, fire alarm systems and air conditioning.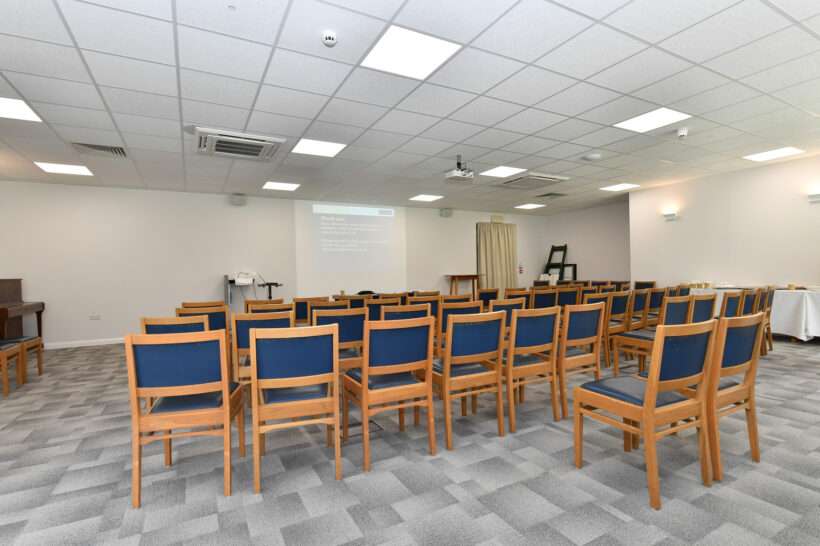 The Challenge
The installation of the Lawns Building presented Neptunus' technicians with a complicated logistical challenge. Situated in historic and beautiful grounds in the centre of Oxford, the access to the site was limited because of ornate listed gates at the entrance. Neptunus had to put special measures in places to deliver materials and used specialist plant and machinery during the build as they were unable to use standard cranes and fork-lift trucks.
Neptunus' team likened the challenge to getting 'a ship into a bottle'. The constraints of the location made it difficult to see how all the equipment and plant to enable the structure to be built could be delivered to site. However, Neptunus' technicians rose to the occasion – working wonders to deliver a successful project, fast and efficiently.
The Verdict
Trinity College Oxford said the dual purpose temporary structure provided a valuable space for students.
Justin Folliard, College Surveyor, said: Our new Lawns Building has proved popular with students who started taking immediate advantage of the Reading Room as soon as it opened. We are delighted with the temporary space that Neptunus has created and very encouraged by how quickly it has become an integral feature of the college. When the Lawns Building is converted for a future scheme, where it will have a second life as a Dining Hall and Kitchen, we hope that it will prove even more popular."
He added: "Our temporary building needed to accommodate a number of different uses across the whole project – what we liked most was the flexibility that Neptunus's solution provided us with for the duration of the project."
These products were used in this project: