Temporary concert hall for Verbier Festival
The Assignment
Each summer the mountain resort of Verbier in Switzerland hosts its renowned annual international music festival. Consisting of numerous live performances, masterclasses, talks, screenings and education events, The Verbier Festival is a celebration of classical music set against the dramatic and picturesque backdrop of the Swiss Alps.
The festival, which also embraces other genres of music including contemporary and jazz, attracts vast numbers of visitors.
Neptunus is responsible each year for building the temporary infrastructure for a programme of 56 concerts, staged over a 17-day period, with more than 75 international artists and over 200 young musicians performing.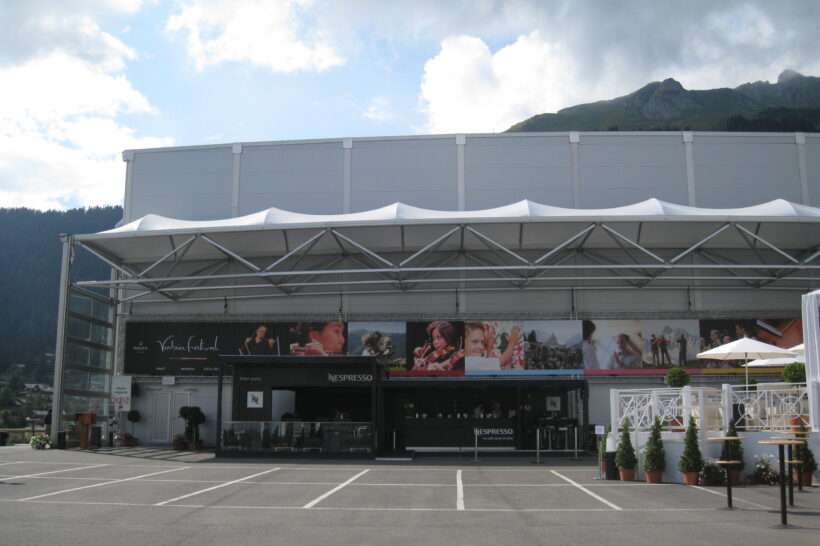 The Solution
Originally Neptunus rented one of its state-of-the-art Evolution temporary structures to the City of Bagnes to create the 'Salles des Combins', the main stage for the prestigious festival. The City has since purchased the temporary building from Neptunus who are appointed each year to erect and dismantle it.
Neptunus' technicians take just eight days to construct the temporary venue that covers 2,200 square metres with a 40 metre long external canopy. The structure, which stands 13.5 metres in height, has a phonic mesh system sitting above the insulated thermal roof – an innovative technique designed by Neptunus' creative team which ensures the sound of any rain falling on the building is not heard inside.
The structure has a maximum seating capacity of 1,850 spectators. Over the 17-day long festival around 32,300 people attended performances and public rehearsal sessions in the facility. Once the festival season is over, the temporary building remains in place for up to three months to accommodate other events before it is finally dismantled and removed to be stored in readiness for the following year's events.
The Challenge
Superb acoustics are essential for a temporary concert venue where so many of the world's leading musicians are performing beneath its roof. Neptunus' sophisticated and fully insulated re-useable roofing system ensures a perfect environment for every performance.
Neptunus' temporary structure technology means temporary buildings can be erected fast and efficiently, no matter how difficult or challenging the terrain. Neptunus has a renowned reputation for constructing temporary buildings in mountainous locations and in extreme weather conditions, having built sports arenas and conferencing facilities at high-profile events in Davos and at various other leading ski resorts around Europe.
The Verdict
Erick Sez, Technical Director Verbier, praised Neptunus for its reputation for precision and the 'extremely high-quality' of its materials. He appreciated how technicians work alongside their clients from start to finish, and said he can personally testify to Neptunus' 'Savoir Faire'.
Mr Sez added that he was particularly impressed by Neptunus' roof skin technology which ensured that sound quality inside the temporary structure was not impeded during periods of rainfall.
These products were used in this project: