McLaren Showroom
The Assignment
McLaren is one of the most prestigious names in the automotive sector. So when leading motor dealer group Cambria Automobiles was appointed as an authorised dealer of the world-renowned McLaren cars, the company was keen to launch its operation as quickly as possible.
However, the site they had secured in Hatfield, Hertfordshire, was an undeveloped piece of land, and it would take 12 months to create the new dealership facility. Therefore, rather than lose momentum and valuable time, Cambria appointed Neptunus to come up with an innovative solution to their short-term requirement – but, importantly, one that was of exceptional high quality and commensurate with the luxury and style of the McLaren brand.
The Solution
Neptunus' creative design team came up with the perfect answer in the shape of the company's state-of-the-art Flexolution technology. It took a six strong team of Neptunus technicians just five days to erect the temporary showroom, utilising the Flexolution II structure which provided 216 square metres of ultra-modern space to show off the supercars.
Once the building was in place, the interior was fitted out to meet the exacting standards required by McLaren and Cambria, with the world's most advanced sports cars being showcased in a temporary structure which has the look and feel of a permanent building. The showroom, with large bespoke windows to give maximum impact when viewing the cars, incorporates a customer lounge area and reception, sales offices, and welfare facilities. It was also fitted with oversized doors to enable the McLaren cars to be comfortably driven into the building.
The McLaren temporary showroom, which will be used for around 12 to 14 months, is the first time that Neptunus has built the Flex2Shop structure in the UK. It will be dismantled once the permanent building is opened and as most of the components are fully recyclable, the structure will be available to provide space for other projects.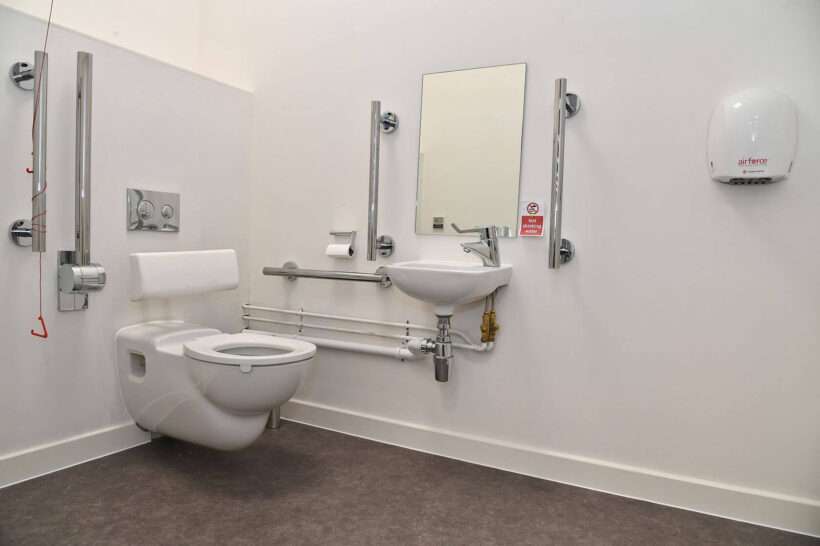 The Challenge:
Neptunus' design and technical teams are vastly experienced at building facilities that offer unique solutions for all sorts of commercial enterprises. For the McLaren project the client required a light and spacious environment in a building with maximum views from the outside for passing customers to see the range of exciting cars on display. The standard Flexolution II windows were therefore replaced with bespoke glass, optimising the natural light and providing unobstructed views of the interior.
The Verdict
Jason Button, Group Property Director for Cambria, said: "We are absolutely delighted with the end product. It far exceeded our expectations in fact. I was very impressed with the professional approach to the project right from the first meeting with Neptunus. Nothing seemed too much trouble, and they fully appreciated the showroom had to be of the highest standard. We were working to a very strict programme to get the showroom open. We only had 3 weeks from the start of the installation to being open and trading. It was incredible to see how quickly and efficiently the showroom went up. We were told it would take 5 days to build, I wasnt totally convinced they could do it in that time, but they did! We would definitely use Neptunus again should the need arise. I could not recommend them highly enough."
These products were used in this project: