Triage tent for Maastricht Hospital
The Assignment
Maastricht University Medical Center+ in Maastricht needed a large triage tent in their emergency car park. An extra measure in dealing with the coronavirus. Neptunus built an Alure Globe 15x30m within 1 day from enquiry to build-up.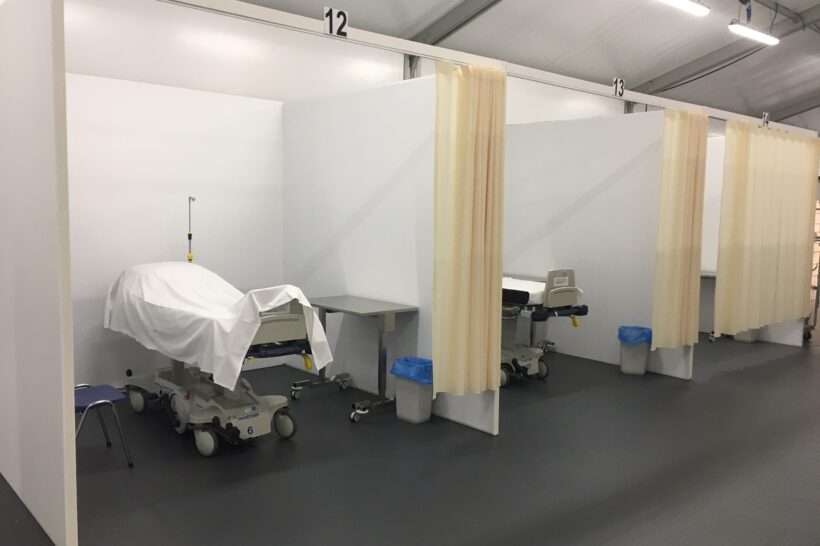 The Solution
On Friday morning March 13th, Neptunus was approached for an emergency triage tent. After a site visit, the build-up of this triage tent was immediately started on Saturday morning 14 March. A Neptunus Alure Globe temporary structure was provided which has a high sidewall height and cassette flooring system. The tent will be partitioned and equipped with water, electricity, lighting, toilet facilities and HVAC.
In the triage tent, doctors can assess the severity of the complaints per patient and decide which patients need urgent help. The hospital expects a larger influx of patients due to the pandemic.
The Challenge
The time schedule. From enquiry (Friday March 13th) to construction (Saturday March 14th). It is in everyone's interest that the triage tent can be operational as soon as possible.
A trailer with a CT scanner was placed in the footprint of the tent. This mobile CT scanner was placed first and the tent was constructed around it.
Result
With the construction of this large medical tent at the emergency department the hospital MUMC+ is prepared for a large influx of patients.
Surface area                                       450 sqm
Installation time                               1 day (+ internal fit-out 1 day)
Period                                                    as long as necessary
These products were used in this project: