Temporary Retail Structures & Supermarkets
Do you own a supermarket or shop? If so, are you looking to grow your business in a different location? If you are reluctant to invest in fixed, permanent buildings, then a temporary supermarket or retail structure may be the solution.
Allow Neptunus to help your business with our temporary retail buildings. We will provide you with the space you need to operate, expand and ultimately achieve your goals.
What are temporary structures for retail supermarket and store?
Relocatable retail buildings can provide you with temporary solutions to immediate problems and offer exciting opportunities for future growth. Our temporary retail spaces have been specially designed to meet the ever-growing needs of modern businesses, as well as the ever-growing demands of consumers.
All of our relocatable retail structures are insulated, ensuring the comfort of shoppers and staff. In addition, they can be custom-made to your specification while offering excellent branding opportunities. Optional features include climate control, washrooms, false ceilings, vehicle doors and automatic sliding doors.
Temporary retail stores from Neptunus are designed to help your business grow. We deliver a bespoke structure that looks and feels permanent. Thanks to our ingenious Evolution and Flexolution technology, we're able to create a solid building with a lifespan of up to 20 years.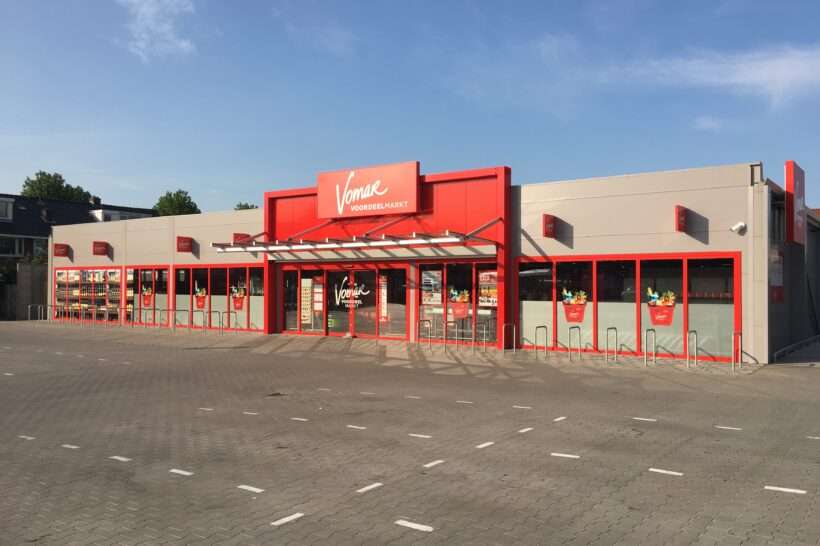 What are the benefits of a temporary supermarket or retail structure?
There are several advantages of opting for a temporary supermarket or retail structure over a permanent base:
Fixtures of a permanent building can be included such as climate control, sanitary facilities, lowered ceiling systems, rolling doors and automatic sliding doors

Can be constructed at any location

Fast delivery and build times

Operational life from a few months up to several years

Sustainable: can be fully dismantled and reused

Modular: flexible dimensions and design

Appearance and characteristics of a permanent building

Turnkey solutions from concept and execution to handover
Temporary Shopping Centre