Tents for temporary shutdown, stop or turnaround
Do you have a 'turnaround', 'stop', shutdown' planned soon? Or do you have a peak in your planning due to circumstances and quickly need extra storage, canteen facilities, dressing or instruction space? We can quickly erect a tent or temporary building on your site for a period of time that suits your requirements.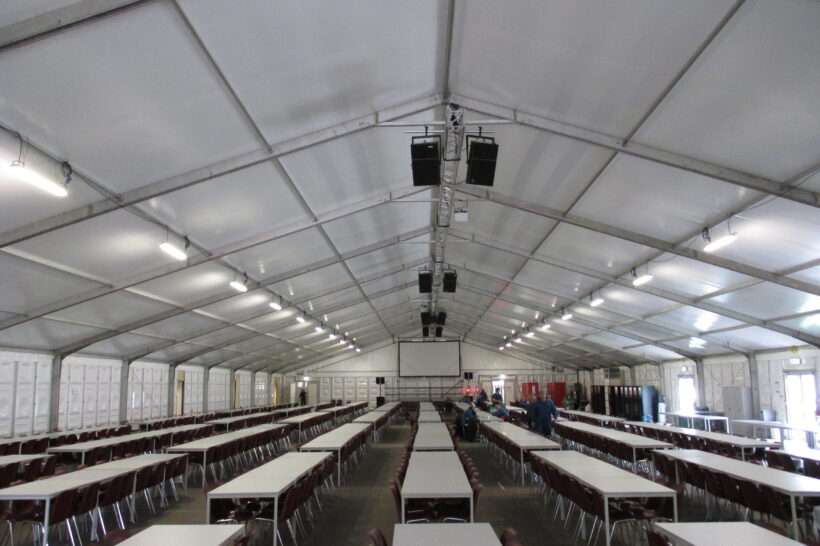 Flexible in size and design
Neptunus' tents and buildings can be supplied in many different sizes. No matter how much extra space you need, Neptunus has a suitable solution. We will quickly and safely build temporary accommodation to meet your space needs. This way, your production stop can run efficiently and according to schedule.
A bespoke solution
Our tents and buildings can be specified according to your needs. The structures are supplied as standard with a solid cassette floor and can be partitioned if required. A tent without a floor can also be anchored to existing ground surface or equipped with a special floor with extra load-bearing capacity. In addition, the hall can also be linked to your permanent building. In this way you can organise your customised work process as efficiently as possible and carry out your stop or shutdown.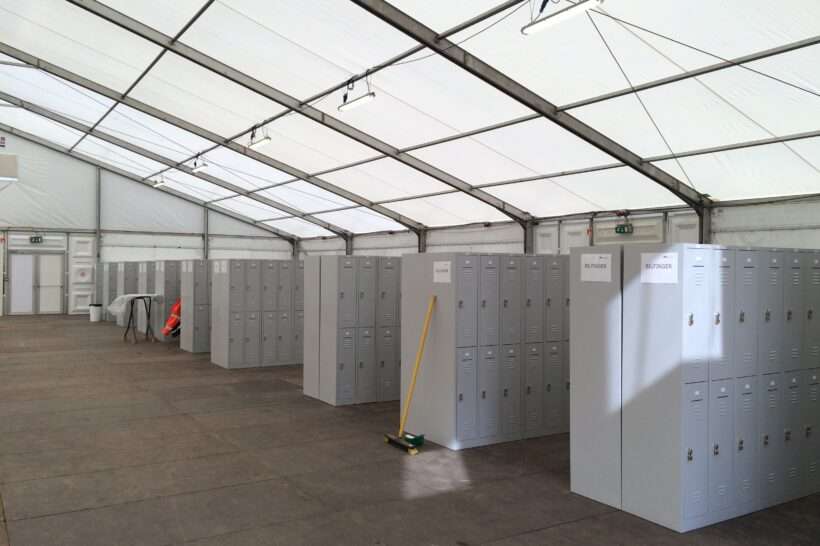 From basic to extensive
We have many possibilities for temporary halls and buildings. From a basic tent, such as an alu hall, to a semi permanent building such as our Evolution. Looking for a temporary dressing room? Then our Aluhall or Alure are a good choice. Are you looking for a temporary but insulated hall? Because of its similar properties to a fixed building, the Evolution is ideal, also for a longer period of use.
Safety in the petrochemical industry
Safety comes first in the petrochemical sector. But also at Neptunus: we stand for safety and quality. We not only take optimum care of our products, services and processes, but also of the safety of our people and the environment. Our SCC certification illustrates that our staff are capable of performing their tasks in a safe, healthy and environmentally conscious manner. This is achieved through education, professional training, company policies and regular communication. We are members of MUTA (Made Up Textiles Association), CHAS (Contractors Health & Safety Assessment Scheme) and, as such, we comply with their Codes of Practice. All our temporary structures are designed and manufactured to BS EN 13782.With our ISO 9001 certification, our quality and customer focus has been formally recognised. The ISO 14001:2004 certification recognizes and validates our processes, goals and ambitions with regard to sustainability.
Would you like more information?
Need extra space and receive more information quickly and efficiently? Contact one of our advisors directly!
During a stop, turnaround or shutdown Neptunus' tents and temporary buildings can be used for:
instruction room

canteen

welfare

restaurant

changing room

workspace

production facility

storage