VIP facilities for World War One Centenary Commemoration Ceremony
The assignment
Neptunus was asked to provide facilities for one of the most poignant ceremonies to commemorate the centenary of World War One, attended by The Duke and Duchess of Cambridge and Prince Harry. St Symphorien Military Cemetery, situated in a picturesque wooded glade in Belgium, is the final resting place for British and German soldiers killed at the Battle of Mons – and the only cemetery which honours the fallen of both sides from the Great War. There are 229 Commonwealth and 284 German servicemen buried or commemorated at St Symphorien, of whom 105 remain unidentified. Neptunus was appointed by Event Management specialists H Power Group who are renowned for staging high-profile military and ceremonial occasions. Neptunus was asked to provide a stylish canopy over the VIP viewing area, VIP facilities and a support infrastructure in keeping with the evocative event that was broadcast to a global TV audience. It was organised by the Department of Culture, Media and Sport as one of the UK Government's official commemoration ceremonies.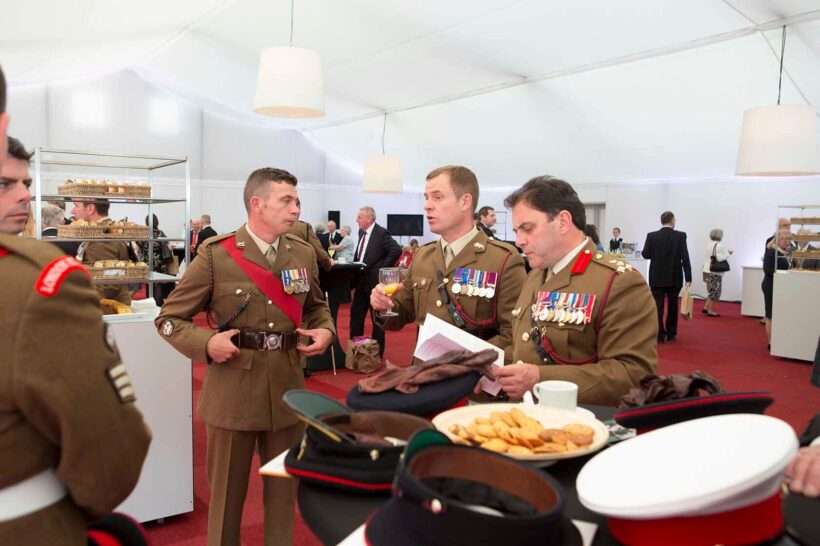 The Solution
A 20-strong technical team from Neptunus took just five days to erect over 2,500 square metres of structures in fields adjoining the cemetery. The facilities included a VIP refreshments area with linings, carpets, lighting and air conditioning to accommodate 500 guests, while a distinctive Galeria roof covered an adjacent large grandstand from where the numerous dignitaries and families of those who lost their lives in the conflict viewed the ceremony. Neptunus also provided structures for a media centre, offices, medical room, kitchens and catering areas along with facilities for the BBC TV production team who broadcast the event to a worldwide audience. The assignment was managed by Neptunus UK, based in Northamptonshire, using technicians from the company's Belgium office. All ancillary equipment including linings, lighting and carpets was sourced from local suppliers in Belgium.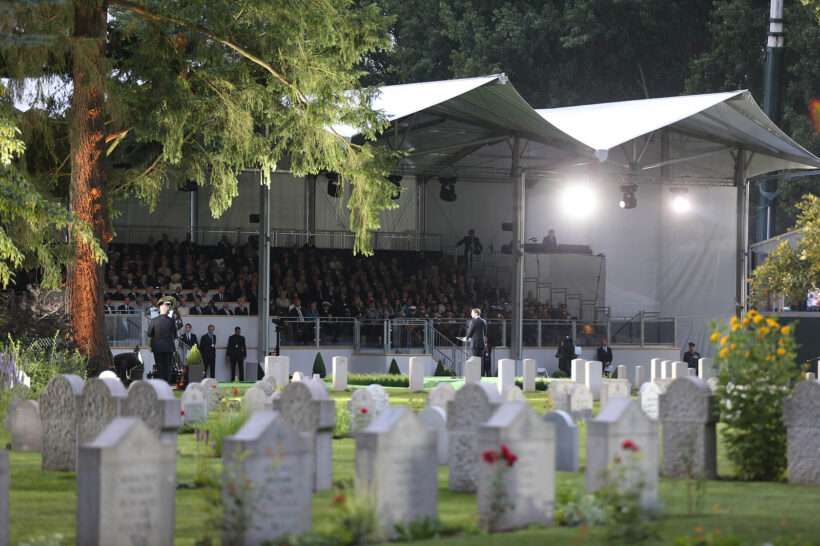 The challenges
The cemetery, which is now under the care of the Commonwealth War Graves Commission, is situated in a tranquil and peaceful setting on the outskirts of the city of Mons. Neptunus' technicians had to build the facilities within the confines of a wooded glade, taking great care not to damage the beautiful memorial gardens while also paying special attention to ensure the dignity of the environment was not compromised. Neptunus' design team also worked closely with organisers to ensure structures were sensitively positioned and did not compromise the sombre setting of the symbolic site. All equipment was transported along country roads with all materials respectfully and carefully manoeuvered around the immaculate cemetery and adjacent fields.
The verdict
Neptunus was deeply honoured to have been selected to support such a historically important and immensely moving occasion which was viewed by millions of people all around the world.
These products were used in this project: