Neptunus in tune at Pinkpop Festival
The Assignment
Pinkpop, originally launched in 1970, has grown into The Netherland's biggest music festival which now attracts over 200,000 visitors to the three-day-long extravaganza held each year at Megaland in Landgraaf.
It's officially the world's longest running music festival (since 1990 in the Guiness Book of Records) which over the years has attracted many of the globe's biggest stars including the Rolling Stones, Paul McCartney, Bruce Springsteen, U2, and Coldplay. The 50th edition attracted more than 50 top artists and bands including Elbow, Fleetwood Mac, Bastille, Lenny Kravitz, The Cure and Mumford and Sons.
As well as the Main Stage, there are performances at four other stages located on the 27 hectare event site.
For over 35 years Neptunus has been a key supplier to the popular festival. 2019 saw Neptunus once again appointed to provide a wide range of temporary structures throughout the festival village, including a specially requested pink-coloured structure to form the centrepiece for Pinkpop's 50th anniversary.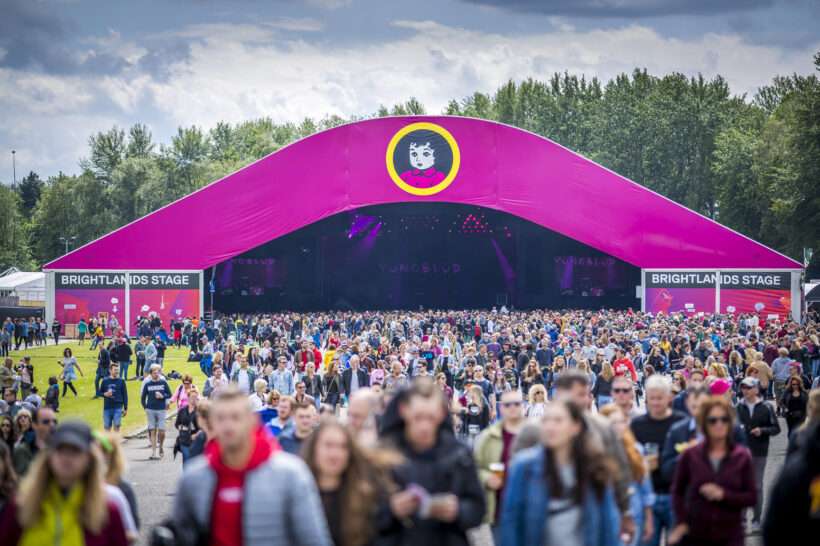 The Solution
It took a 25-strong team of Neptunus technicians just over two weeks to build the event's temporary infrastructure, consisting of almost 12,000 square metres of temporary event structures.
Brand new for 2019, Neptunus created the bright pink Alure Globe Giant – home to Pinkpop's Brightlands Stage. Fulfilling the brief from the show organisers to create an eye-catching centrepiece, the structure's distinctive curved roof, pink PVC exterior and internal free span of 50 metres ensured a perfect view for all visitors.
The tent was anchored to a concrete ring foundation, laid by Pinkpop, using concrete poles which removed the need for any concrete ballast.
Neptunus also built the Stage 4 venue using its 30 x 50 metre Ocean structure with memorable waving membrane roof, which was introduced at Pinkpop in 2013. Neptunus also supplied backstage and artist areas, press facilities, food and beverage tents for visitors and a crew catering area for everyone working behind the scenes.
Temporary structures also created the Pinkpop-up Bonnefanten Museum, the festival's entrance tents and featured at campsites on the showground.
The Challenge
Due to all the other events taking place at Megaland during the summer, the build for Pinkpop had to be completed in a very tight time frame. Renowned for their speed, efficiency and ability to carry out complex builds at busy and sprawling locations, Neptunus' technicians once again rose to the occasion delivering all the facilities to schedule.
The enhanced Neptunus equipment needed for the build was delivered to site in a huge, but smooth, logistical operation which enabled the technical crew to meet its deadlines. All the structures and equipment needed to be swiftly dismantled and removed following the festival.
The Verdict
The fact that Neptunus has been a valued partner of Pinkpop for so long speaks volumes for the quality of Neptunus' products and the fast and efficient service of the entire Neptunus team.
Sierk Janssen, Safety & Production Manager of Pinkpop, said: "For the 50th anniversary of Pinkpop, the time was right to come up with a new structure replacing the traditional circus marquee with poles. As our long-standing temporary structure supplier, Neptunus designed our brand new Brightlands stage. The biggest plus is that we now have a huge free span of 50 metres and the open pavilion offers great lines of sight – even for people standing on the field outside the pavilion, and it's still pink!"
These products were used in this project: