Double decker structure from Neptunus for Oktoberfest in The Netherlands
A double decker from Neptunus was perfect solution for the reduction in space at the Oktoberfeest Festival in Sittard. Since 2005 the township of Sittard-Geleen yearly organises the Oktoberfeest in Sittard. A six-days festival with national and international live acts.
The Assignment
The 15th edition of Oktoberfeest Sittard presented a difficult problem. The normal festival location was reduced in size as apartments were being built on part of the site.  Organisers, The Township of Sittard-Geleen, turned to temporary structure specialists Neptunus to come up with a solution to comfortably accommodate the huge audience but on a much smaller footprint.
Based on the famous Bavarian Oktoberfest held in Munich, the Dutch Oktoberfeest Sittard welcomed lots of visitors to the 2019 event who were entertained by a line-up of over 100 national and international musicians and artists.  Each day visitors danced and sang along to live acts performing over a five-hour party session. National Geographic listed the biggest Oktoberfeest of The Netherlands in the top 10 of best Oktoberfest parties in the world!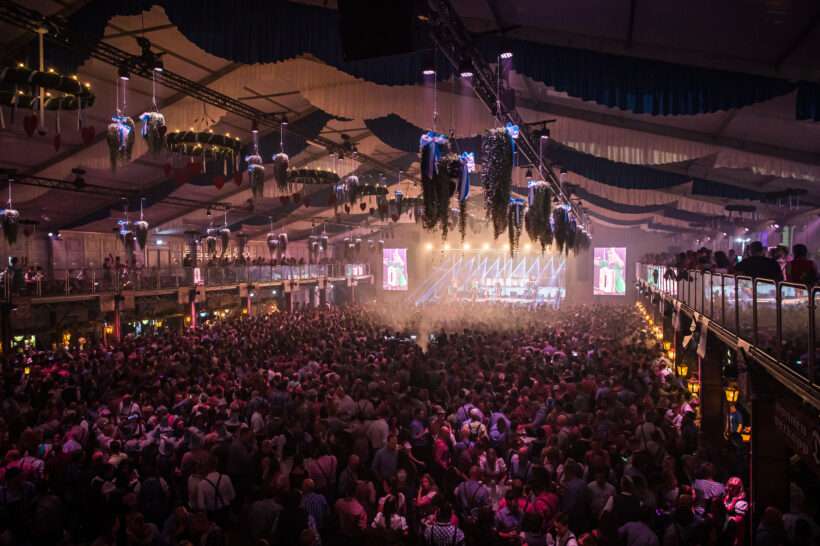 The Solution
The answer came in the shape of Neptunus' innovative 'Double-Decker' technology with technicians building a temporary structure which provided 2,400 square metres of space on the ground-floor with a further 960 square metres of space created from second floor balconies. The 'U' shaped balconies constructed on the sides and at the rear of the building provided visitors with an environment that was similar to renowned Bavarian Oktoberfest.
The Double-Decker temporary building was complemented by three Alu Halls which formed the entrance, back-stage space and toilet facilities.
It took an 8-strong team of Neptunus technicians just one week to build the temporary arena, named the Brand Weizen Pavilion, after the Dutch beer producer.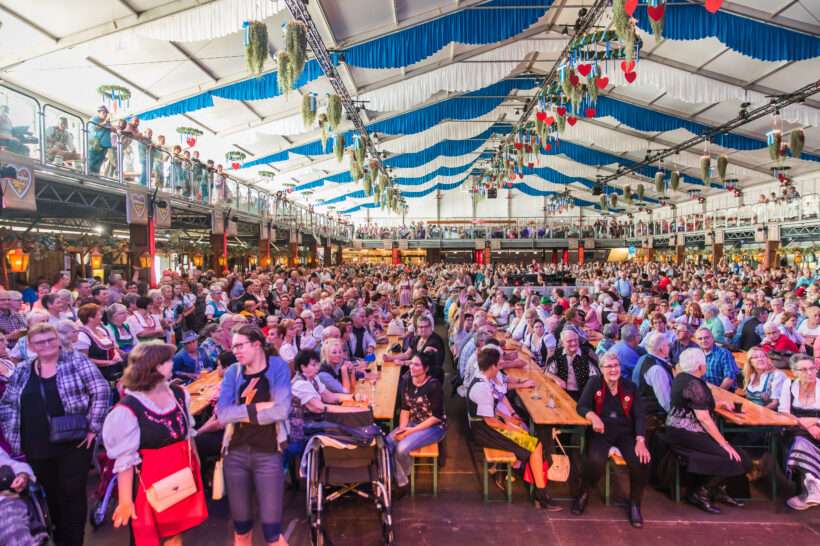 The Challenge
The biggest challenge was to accommodate such large numbers of people within the temporary facility but on the smaller footprint. Neptunus' Double-Decker building proved ideal to cope with the capacity demands, while being able to be constructed and fully operational within a very tight time-frame.
It also provided organisers with a blank canvas backdrop in which to create a truly authentic atmosphere to replicate the famous Munich Oktoberfest. The balcony created a void of 1,440 sq metres. On one side of the balcony, transparent wall panels were used to create a stunning view over the festival site.
The Verdict
Sjef Schurgers, project leader of the Oktoberfeest: "In 15 years the Oktoberfeest in Sittard has grown. With the increase of visitors and decrease of space, we had a big challenge. Neptunus designed a brand-new pavilion with two floors. The biggest autumnfestival of the south must have a big structure!"
These products were used in this project: