Case Study: The Hague Gymnasium
The most sustainable temporary building ever meeting the same high criteria as a permanent building has opened in The Hague. The building, Flexolution, is to be used as a gymnasium and is designed and built by Neptunus, one of the leading providers of temporary accommodation. This type of accommodation differs from other temporary buildings, since it's much more sustainable.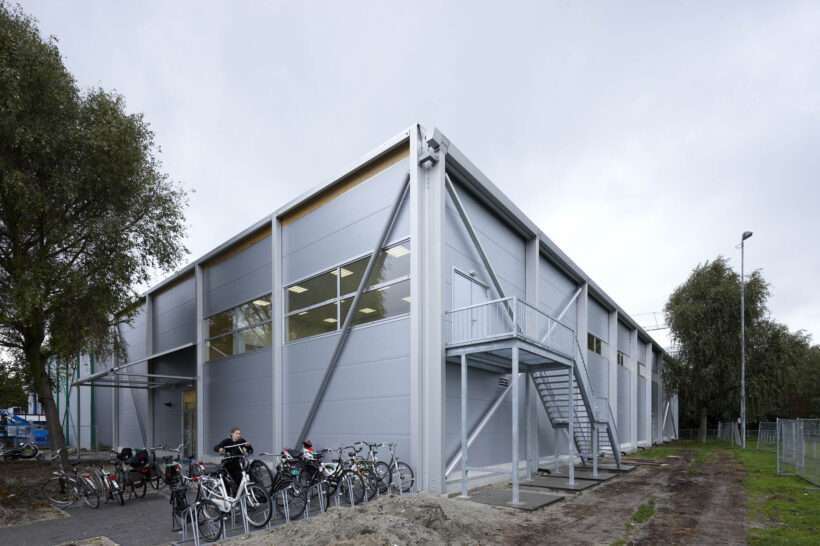 Every component can be reused and the building is very energy efficient. That explains why the structure has received a Class 'A' energy label. This new type of structure can be put to almost any use, including a sports hall, shop or school. In recent years, businesses are increasingly using prefabricated buildings in the event of serious fire, renovation or temporary expansion. The assembly time is short, but the quality, sustainability, safety and convenience is the same as that of a new building.
Gymnasium The Hague
The semi-permanent building in The Hague is used as a gymnasium and looks from the outside like a normal building. It only took a few weeks to assemble the facility. Up until now various athletic clubs in the Hague trained in sports halls not adequately equipped for gymnastics, therefore, it was decided to build a permanent sports hall. Since it will take about five years for the new gymnasium to be completed, Neptunus has built a semi-permanent gymnasium measuring 24 by 48 metres to be used in the mean time.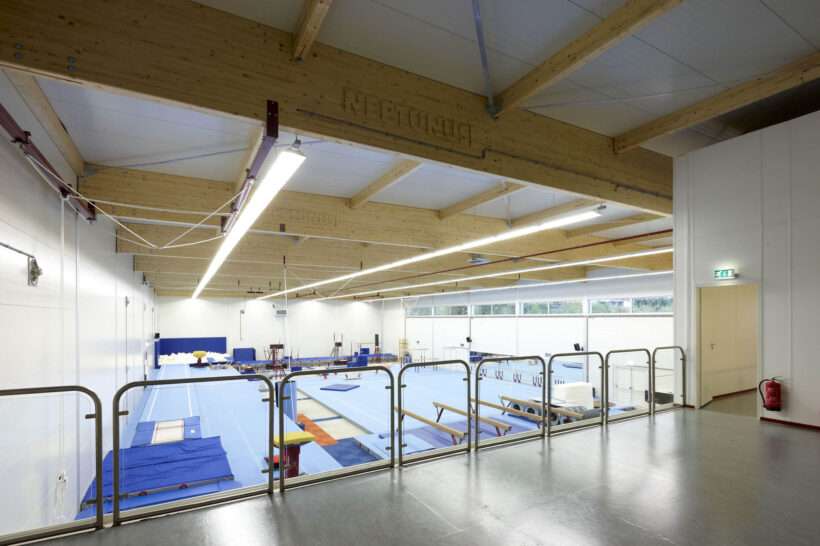 Flexolution: durable and flexible
Neptunus' newest temporary structure, Flexolution, has been manufactured in accordance with the latest energy and environmental standards and is compliant with energy label A. The design and specially insulated walls and windows provide excellent insulation. In addition, this semi-permanent building also complies with the Ministry of Housing building regulations, which includes the engineering requirements that all homes, offices and shops in the Netherlands must comply with. Moreover, once the building has been disassembled all of its parts can be used again, making the building very sustainable. Companies and organizations can make substantial cost savings on energy whilst meeting their social responsibilities by using this new temporary accommodation. Because Flexolution is built in units of 6 by 6 metres, the building can be built in any shape.
The dawn of semi-permanent buildings
The demand for semi-permanent accommodation has risen sharply in recent years. Neptunus developed one of the most advanced temporary structures already in 2004. Many companies and governments have used these semi-permanent buildings during a period of construction or after a disaster such as fire. Closing down isn't an option for businesses because customers often go to the competitor and then not return. At least half of the companies affected by fire go bankrupt within five years.
The chief advantage of temporary accommodation is the short assembly time and flexibility. They are also almost indistinguishable from fixed premises. Dorrie Eilers, director of Neptunus: "The advantage of our semi permanent buildings is that they can be built very quickly, without loss of comfort. Also, the new temporary accommodation is very energy efficient. Given the shift towards sustainability both in society and in business we expect demand for this type of building will increase significantly in the coming years. "
These products were used in this project: