DMG Staff party
The Assignmemt
De Mandemakers Group (DMG) is a Dutch family business active in selling and installing kitchens, sanitary facilities and furniture. Under the umbrella of the multinational are more than 200 branches, divided over multiple store formulas. Keukenconcurrent, Keukenkampioen, Brugman Keukens, Morres Wonen and Piet Klerx are some success formulas with which De Mandemakers Groep has grown.
On Saturday 23 September, DMG organized their annual staff party. More than 4,000 guests, mostly employees and their family members were invited. To reinforce the appearance of the staff party, De Mandemakers Groep chose a (temporary) event location on the company site of the head office in Waalwijk. In collaboration with Academy Bartels, a concept was developed whereby the temporary structures could be used multifunctional: the staff party and the DMG Kitchen & Bath Event, which took place a week before the staff party.
The Solution
A 15-strong team of Neptunus built a temporary exhibition complex of over 6.800 m² (one and a half football pitch) on the grounds of DMG in Waalwijk within 1.5 weeks. An Evolution II of 40 x 50 meters, two Alu halls of 20 x 40 meters and two of 25 x 35 meters formed a stylish accommodation for the DMG Kitchen & Bath Event and the celebrated staff party.
Especially for the staff party, the Evolution II and the four Alu Halls were cleared out immediately after the Kitchen & Bath Event and converted into a party location. The evening was dominated by 'the summer past', with its own exotic theme in every space: 'Club Ibiza', 'Latin Cuba', 'Funky America' and 'surprising Asia'. Every Alu Hall was furnished with its own stage, dance floor, lounge area and matching food and beverage outlets. Entirely in spheres of the matching theme. The main stage was provided in the Evolution structure of Neptunus, where staff members were treated to a surprisingly musical program by the Boston Tea Party band, Latinband Siembra, Peter Beense and Tino Martin, among others.
Despite the demountable nature of the buildings, the Neptunus structures have the appearance and functionality of a permanent building. The temporary exhibition and party location was equipped with insulated wall panels, integrated rain gutter system and tightly finished upholstery. Neptunus also built an outdoor terrace and the sanitary facilities.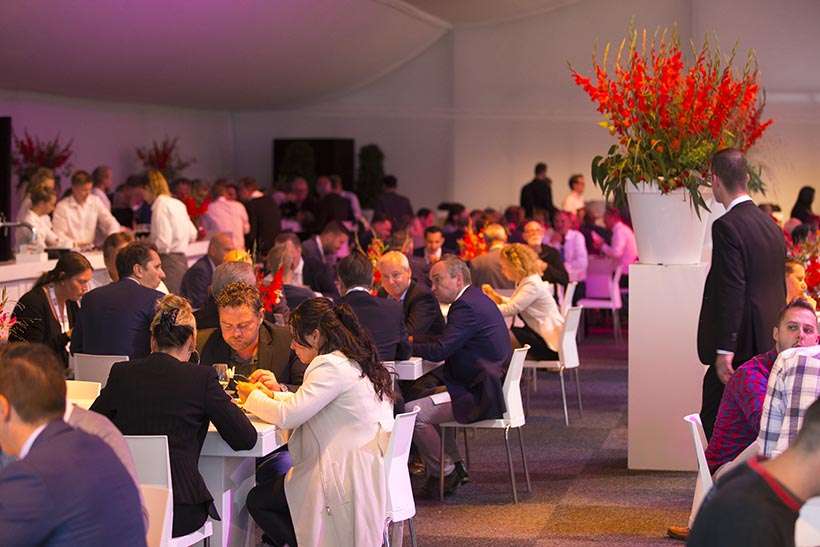 The Challenges
The location on the DMG site was a technical challenge. Plagued by extreme rainfall, the lawn had become very swampy. The construction team has been able to prevent damage to the site with great care. Road plates were laid down and moved to facilitate the supply of materials while protecting the surface.
The Verdict
"We have chosen Neptunus because they can provide us with quality and stylish accommodations that offer the comfort and user-friendliness of a permanent location. In addition, we benefit optimally from the multifunctional usability of the Evolution and Aluhal structures. Both buildings were easily and quickly transformed into a party temple, "says Gijs Bartels of Academy Bartels Event Management.
These products were used in this project: