115 year anniversary Ten Brinke Group
Assignment
Ten Brinke Group is an international construction company with more than 800 employees and 26 branches in the Netherlands, Germany, Spain, Portugal and Greece. Ten Brinke Group was founded 115 years ago and this anniversary was celebrated in 2017. More than 3,500 guests, most of whom employees, their family members and business partners were invited. For the anniversary party, the premises of the Ten Brinke Group was transformed into an event location. This required a robust and stylish, temporary accommodation of more than 1,900 m2 to serve as a party pavilion.
Solution
A Neptunus team of 14 technicians built a temporary "eye-catcher" for the 115-year anniversary within 3 days. The 'Ocean' of 30 x 55 meter, with characteristic wavy roof, was used as a luxury party tent. The Ocean was completely equipped with several hip catering stands, a wine bar, a mezzanine with a comfortable lounge, a large dance floor and a stage.
Neptunus also built the stylishly decorated reception area, catering facilities, backstage area and an external terrace. In total around 1,900 square meters.
Challenge
Building the temporary accommodation on the parking lot of Ten Brinke Group in Varrsseveld demanded strong planning The business activities of the international construction company were not discontinued. Within only 3 days the complete event location was delivered by Neptunus.
One of the highlights during the anniversary party was the spectacular opening on Friday, September 15th. A specially designed laser – & video show was projected on the inside of the roof of the 'Ocean' structure. A musical program with live bands completed the party evening. On Saturday, September 16th, a cozy family day marked the end of the party weekend.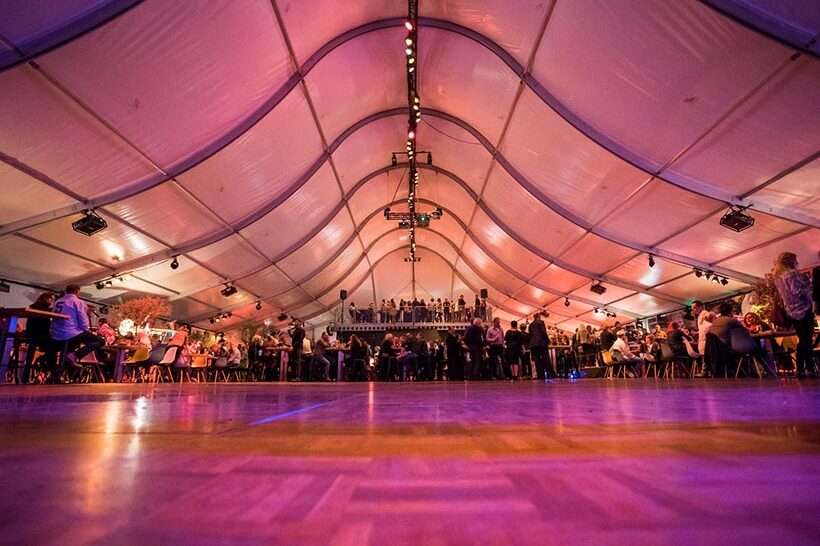 Result
"Neptunus provided the construction we were looking for. The sober, robust and stylishly decorated 'eye catcher' makes a perfect addition to the anniversary atmosphere. Neptunus provided us quickly and efficiently with a building that served as a top party location for our colleagues and their families", said Rutger der Nederlanden, manager at the Ten Brinke Group.
These products were used in this project: