Neptunus builds a sparkling wine tasting facility in the 'Garden of England'
The Assignment
Gusbourne Vineyard nestles in the beautiful countryside surrounding the ancient village of Appledore in Kent, an English county regarded as the 'Garden of England'. Gusbourne Estate takes its name from its erstwhile owner in 1410, John de Goosebourne, whose coat of arms depicting three geese still hangs from the beams in the Norman church of Appledore village. Over the centuries, the spelling (and pronunciation) of the estate name mutated to "Gusbourne".
In 2004, when our founder Andrew Weeber planted the first vines on Gusbourne Estate's coastal escarpment in Kent, in the far south eastern corner of England, he had a clear vision and a single goal: to create English Sparkling Wines that would stand up alongside the very finest offerings from across the globe. They've had their sights set on perfection ever since.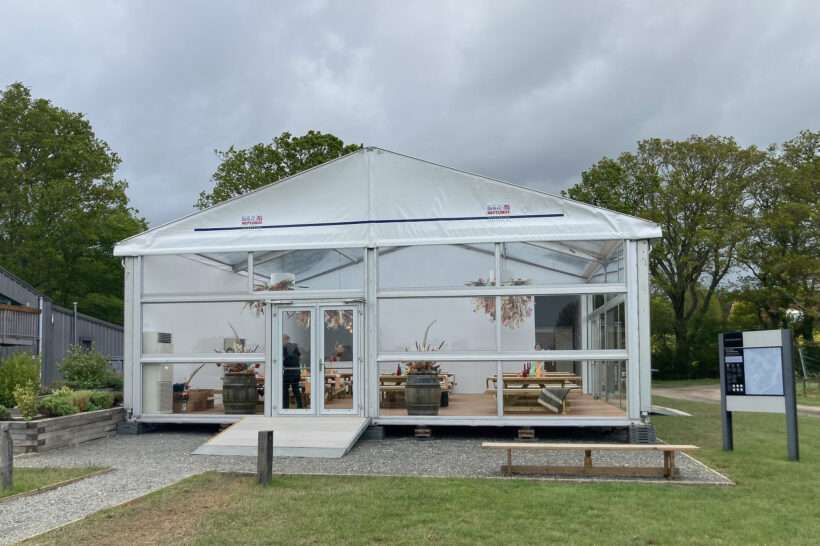 The stunning location of the vineyard and winery has proved popular with visitors for tours and tutored tastings, hosted by Gusbourne's wine experts. With soaring visitor numbers, additional wine tasting space was required to meet demand during the busy summer/autumn season.
The Solution
Neptunus were appointed to design and build a temporary all-weather wine tasting facility which needed to be comfortable and stylish, to complement the estate's luxury tours and tastings.
An eight strong team of  technicians took just eight days to build the facility within a 150 square metre Alure temporary structure with windows providing views out into the idyllic vineyard. Neptunus were also responsible for the internal fit out, lighting, flooring, toilets and air conditioning. The temporary  facility will be on site for a period of six months after which the crew will take just two days to dismantle it and return it to Neptunus stock.
The Challenge
The structure needed to be built in a very specific area of the vineyard with the equipment delivery and construction process being carried out while ensuring minimal disruption to the day-to-day operations of the winery.
The Verdict
Sophie Sturdy, Gusbourne's Marketing Manager, says: "We needed an additional all-weather tasting space to enable us to meet demand for our luxurious tours and tastings. This had to sit in a specific site, and feel smart and premium inside, in keeping with our award-winning English Sparkling Wine brand.
"We chose Neptunus because they offered a full-service solution, including project management, modular building structure, air con/heating, toilets, lighting and internal carpentry, and we felt their track record on other projects with clients was exemplary. They were clear about the costs and the timescales involved at all times and were very prompt in providing solutions for our needs, even making tweaks once the building was in place."
These products were used in this project: