Neptunus on parade for Spirit of Discovery's royal naming ceremony
The Assignment
Saga Cruises is one of the key businesses within Saga Group's award-winning travel operation.
In July 2019 the company introduced Britain's newest cruise liner 'Spirit of Discovery' with a spectacular naming ceremony conducted by The Duchess of Cornwall at the Port of Dover.
The Spirit of Discovery, which can accommodate 999 passengers and 505 crew, is the first new cruise liner of the Saga fleet – one of two new ships commissioned by Saga. The other will be launched in 2020. The ship boasts a balcony for every cabin and its facilities include lots of space for relaxation with two pools, a luxury spa and even a tranquil secret terrace. It also has a range of top class restaurants.
The momentous naming ceremony for Spirit of Discovery was meticulously planned by leading event production company, Embolden. Neptunus was appointed to provide the temporary infrastructure for the hundreds of VIPs attending the celebration – creating a dazzling viewing area on the quayside to befit such a Royal occasion.
The Solution
A 10-strong team of Neptunus technicians took just three days to build over 1,000 square metres of temporary facilities utilising Alure Globe and Alu Hall technology to accommodate up to 300 of Saga's VIP guests.
The temporary buildings included a spacious quayside garden party area where guests were entertained to afternoon tea. There was also a Neptunus 25m wide Alure Globe clearspan structure used as a grandstand to view the official naming ceremony conducted by The Duchess of Cornwall and to witness the traditional smashing of a champagne bottle on the ship's hull.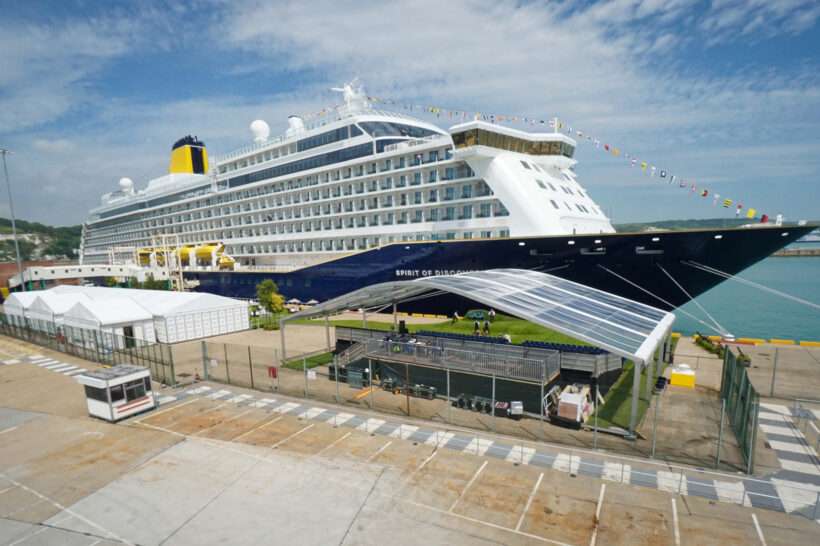 The Challenge
Neptunus' technicians have vast experience of working within the confines of high security environments. As well as navigating the security challenges, Dover is one of the UK's busiest ports which meant the build crew had a tight time frame in which to deliver equipment and erect all the temporary structures – working within the confined space of the quayside.
The Verdict
Ben van Grutten, Production Director for Embolden, said: "I'm delighted with the high quality of the temporary structures and the impressive service provided by Neptunus and their on-site team. This was an immensely high-profile event and we required a temporary structure supplier who could provide facilities to complement the occasion."
These products were used in this project: