Neptunus' structures provide dual purpose solutions for ice hockey tournament and World Economic Forum
The Assignment
The Spengler Cup is believed to be the world's oldest invitational ice hockey tournament. Staged annually in Davos, Switzerland, the event is hosted by Hockey Club Davos with games played at Vaillant Arena.
Devised by Dr Carl Spengler, it was first held in 1923 as a means to promote teams from German-speaking Europe who might have been ostracised in the aftermath of World War One. Since the inaugural competition, it has since grown into one of Europe's most prestigious ice hockey tournaments attracting many top teams from around the world and over 100,000 spectators.
Neptunus are the preferred temporary structure supplier to the Spengler Cup and appointed to build the VIP hospitality area for the event each year where the major sponsors and corporate guests are entertained.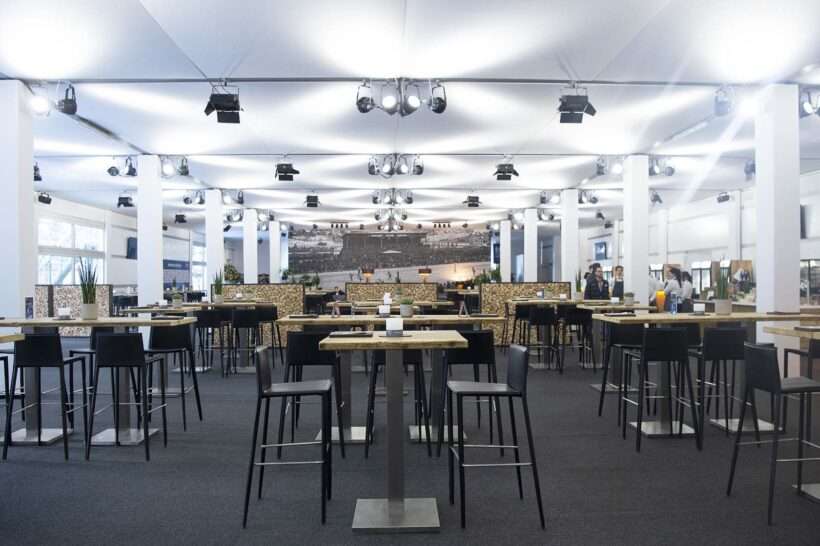 The Solution
A 15-strong team of Neptunus technicians take just two weeks to build over 3,300 square metres of temporary structures that form the hospitality centre. At the heart of the complex is a state-of-the-art two-story Evolution II building which accommodates an a la carte restaurant, bars, and reception area and ticket office. There is also a mezzanine floor with internal staircases and a lift to the upper level where the VIP restaurant is located. The Evolution is fully glazed with insulated windows, providing diners with spectacular panoramic views of The Alpine backdrop. With its insulated wall panels and roof the Evolution structures saves energy costs.
A second smaller Evolution II building forms a stand-alone kitchen for all the catering requirements while two Alu Halls accommodate the media centre and toilet facilities.
These products were used in this project: