Pioneering Spirit VIP Hospitality Facility
The Assignment
Global leading marine construction contractor Allseas unveiled the world's largest platform installation and decommissioning pipe-lay vessel 'Pioneering Spirit' at an inauguration ceremony staged in the port of Rotterdam.
Pioneering Spirit is the latest edition to Allseas' fleet. Measuring 382 metres by 124 metres, the twin hulls are linked by a huge platform and cover an area equivalent in size to eight football fields or two super tankers.  It has a topside lifting capacity of 48,000 tonnes with a pipe-lay capacity of 2,000 tonnes.  The vessel was mainly constructed in South Korea before arriving in Rotterdam for final fit-out ahead of the official naming ceremony.   It is the largest vessel to sail into the port's Maasvlakte terminal.
Neptunus was appointed by event specialists Production World to provide a state-of-the-art hospitality facility for the high-profile naming ceremony which was attended by hundreds of guests and VIPs.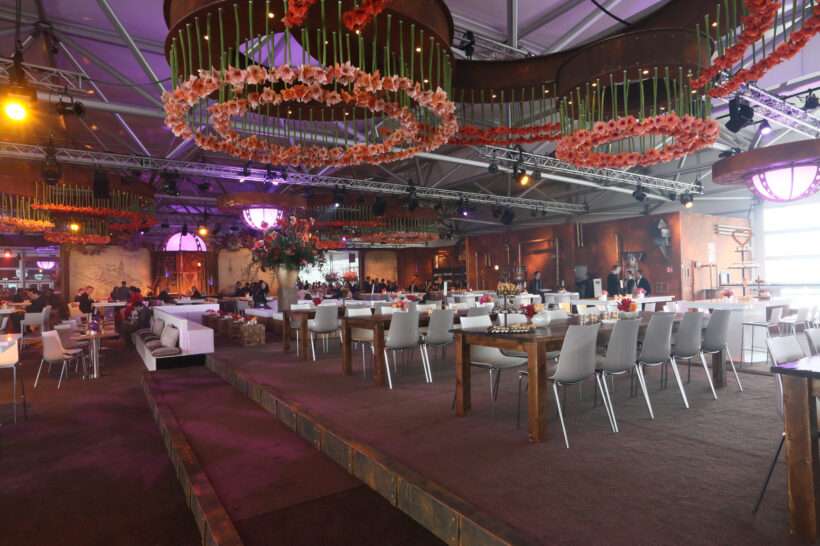 The Solution
Neptunus supplied two Evolution structures with a total floor space of 975 square metres and a 50 square metre Alure Globe structure on the quay side to form a temporary bus terminal and accreditation area for guests.
Neptunus' technical team created the main 3,000 square metre hospitality facility which was built on a pontoon adjoining the giant twin-hull catamaran.  The stylish double-deck Evolution included a mezzanine level and provided space for reception, entertainment and dining areas.  The facility also had an internal staircase and an elevator.   A series of Alure Globe structures formed a covered entrance walkway to the main building.
More than 42 lorry loads of materials and equipment was delivered to the site with the entire facility constructed on the floating pontoon, requiring thousands of tonnes of materials to be transported from the quay side across the water.  A 20 strong team of Neptunus technicians successfully completed the complex build, including the preparation process, in just five weeks.  The facilities are demountable and the structures were dismantled and removed following the event.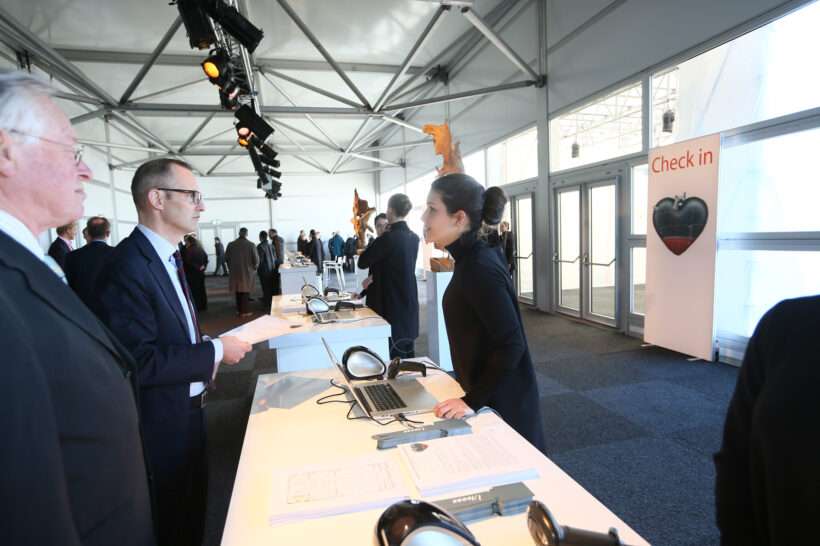 The Challenges
The project involved several major challenges for Neptunus' technicians who had to carry out the build programme in adverse weather conditions with strong winds gusting in the port throughout.
It also involved the huge logistical challenge of arranging delivery of thousands of tonnes of materials and equipment into a highly secure working port environment, and then transporting it all across the water to the pontoon situated alongside Pioneering Spirit.
The occasion under-pinned the versatility and flexibility of Neptunus' structures and the ability to construct venues –  no matter where the location is or how challenging the terrain and weather conditions.
The Verdict
Allseas' Project Leader Jeroen Hagelstein said: 'Due to the size and location of the event the logistics were quite a challenge. In addition, we also made great demands on comfort and care. By working with the best companies in their field, this event has become a resounding success."
Jeroen Backx, Technical Producer of World Production, said: "No other company in the Netherlands and beyond could make such constructions and we are therefore very pleased with the performance of Neptunus."
These products were used in this project: