Neptunus Office and Storage Warehouses
Background
Neptunus is an international specialist in providing high-class temporary structures for hospitality and corporate events as well as semi-permanent, re-locatable buildings for the public sector, commerce and industry.
Established over 80 years ago in The Netherlands, Neptunus now employs more than 280 people at its offices throughout Europe.
In the UK, Neptunus is a regular supplier to prestigious events such as Masterpiece London, the Chelsea Flower Show, Wimbledon Tennis Championships and Goodwood Festival of Speed. The company was also recognised as an official supplier of temporary buildings to the London 2012 Games.
Requirement
With multiple orders on the books for forthcoming projects across the country, Neptunus required additional space to support its expanding UK infrastructure.
Whilst location was important, the new premises also needed to accommodate national office functions and provide increased storage capacity for Neptunus' hire stock.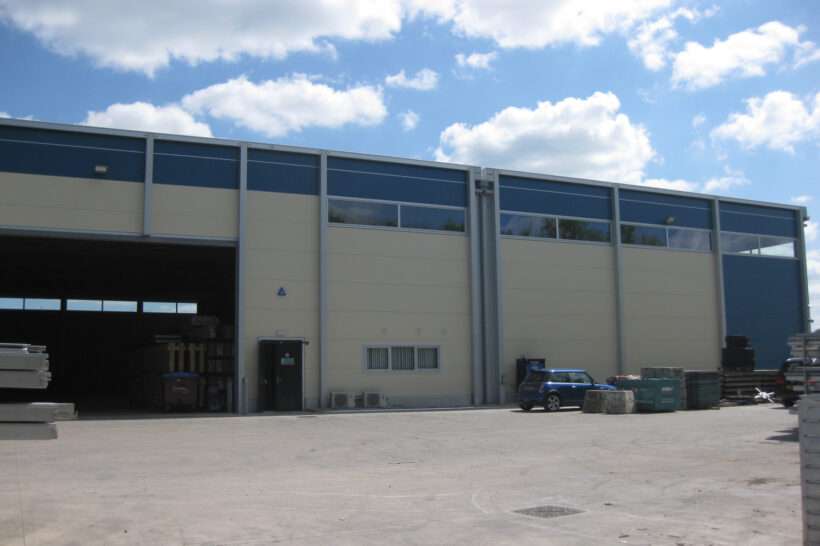 Solution
Neptunus identified a strategically located site at the Swan Valley Business Park in Northampton from which to serve its growing customer base.
The design and layout of the new 11,000 sq m site mirrored other Neptunus sites across Europe. It centres around a modern, permanent three-storey office building, which adjoins several large storage warehouses with loading bays and industrial roller shutter doors.
Neptunus manufactured and constructed its own Flexolution structures to form four 24m wide warehouses. As highly sustainable and energy efficient semi-permanent buildings, the Flexolutions have achieved a 'Very Good' Building Research Establishments Environmental Assessment Methodology (BREEAM) rating and an 'A' rated energy performance under the EU Energy Performance in Buildings Directive.
Drawing on its own construction experience Neptunus worked with a local contractor and project management team to facilitate the build. All the structures were built in accordance with Construction, Design and Management (CDM) regulations including Neptunus' own semi-permanent warehouses, which incorporated permanent features such as concrete foundations and floors.
From start date through to completion the main office building was handed over in under six months. Neptunus technicians erected the warehouses in two phases – each taking a few weeks.
Each Flexolution warehouse is constructed from aluminium columns and laminated wooden trusses. The walls are made of insulated sandwich panels, giving better noise reduction and providing excellent thermal capabilities.
Benefit
By consolidating Neptunus' offices and storage and distribution facilities on one site, Neptunus will benefit from having all its resources under one roof in a central location.
On top of this, as the company's own products formed a major part of the building, Neptunus will also be able to showcase its semi-permanent building credentials to prospective customers on site.
Possessing the solidity and strength of permanent buildings, the Flexolution warehouses will provide energy efficient storage space for many years to come. In the event that storage capacity needs to be increased or decreased, the modular nature of the structures gives Neptunus the flexibility to do this themselves both quickly and easily.
April Trasler, Neptunus' UK managing director says: "The investment in a new office represents an exciting milestone in Neptunus' UK history.
"In addition to providing extra capacity for future growth, the new office will enable us to continue evolving our product range and strengthen our presence in the UK. We were able to utilise our own construction experience during the build process and have benefited first-hand from the qualities our own structures have to offer."
These products were used in this project: