Massive exhibition halls for Masterpiece London
The Assignment
Masterpiece London, the summer's leading international cross-collecting fair for art, antiques and design, takes place at the Royal Hospital Chelsea for eight days in June and July each year and since its inaugural year in 2010 Neptunus has been called on to provide the infrastructure. The fair sits at the heart of the capital's busy summer art and auction season. Each year, the art market generates over 100 million pounds worth of art sales during the week of Masterpiece, a fair which offers for sale museum-quality works with superb provenance from over 150 galleries worldwide.
Drawing collectors and museum curators from around the world, Masterpiece has established itself as an important annual meeting place. The success of the fair can, in part, be attributed to the groundswell of interest and purchases from world-renowned institutions.
The Solution
Due to strict planning restrictions, Neptunus has just two weeks to deliver 55 truckloads of its equipment to the historic grounds and build the exhibition space to accommodate the finest museum-quality works from over 150 international galleries.
Working closely with site management to protect the grounds, Neptunus links two of its clear span Evolution structures to form a massive exhibition hall measuring 85m x 135m. These structures are further linked to a 10m x 85m Evolution II to create a grand entrance for the event.
The Neptunus Evolution structure is an ideal solution for the event as it possesses the desirable features normally associated with a permanent building. Equipped with a raised floor system, insulated rigid wall panels and integrated rainwater guttering system, the Evolution feels solid and well built.
Neptunus also supplies a 15m x20m Alure structure to form fine-dining restaurant Le Caprice as well as a number of Alu Halls to accommodate an exhibitor lounge, lecture room, toilets, back-of-house catering facilities and storage.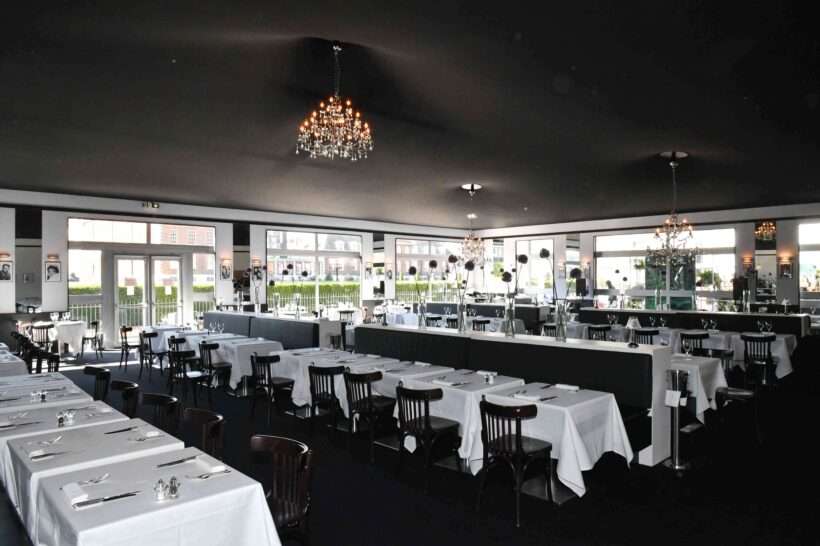 The Challenge
Masterpiece is set in the historic grounds of the Royal Hospital demanding meticulous planning and close collaboration with the site management team to ensure the site was protected throughout the installation.
Visitors arriving at the main entrance off of the Embankment could have been excused for thinking the gallery was in a permanent building. Stabilo International, who were responsible for the magnificent fit-out and interior design, cleverly wrapped the front of Neptunus' Evolution II structure in a fabric replica of the Royal Chelsea Hospital – home of the legendary Chelsea Pensioners.
The Verdict
Lucie Kitchener, Managing Director of Masterpiece London, says: "We are delighted to have worked with Neptunus for the last 8 years, who have helped us physically realise our growing ambitions for the fair. This year, they've enabled us to increase the footprint of the fair which will work to improve the flow throughout the fair, and especially during our busy preview day. We're pleased to have been able to increase the number of exhibitors to 160 this year, which we feel is an optimum number for our guests to enjoy the best of international art, design, furniture and jewellery brought together under one roof."
These products were used in this project: