LAPADA & PAD, Berkeley Square, London
Requirement
The Pavilion of Art & Design is set in Berkeley Square at the heart of the capital's vibrant fine art arena in Mayfair. It is one of the largest modern art exhibitions in the world featuring art galleries from Barcelona, Brussels, Milan, New York, Paris and Stockholm, which showcase works of art to the public over a 5-day period in October.
Following a successful Pavilion of Art & Design event in 2011, Neptunus approached another user of Berkeley Square, LAPADA, to provide back-to-back event facilities. After consultation between the users an agreement was reached to share the temporary space, resulting in mutually beneficial advantages.
The LAPADA Art & Antiques Fair takes place in September.  Exhibitors are experts in a wide range of disciplines from medieval works of art to contemporary fine art, rare furniture, clocks and exquisite jewellery.
3,800 square metres of exhibition space was required and Neptunus was commissioned to build several temporary structures for LAPADA, which would be retained and reused by the Pavilion of Art & Design the following month.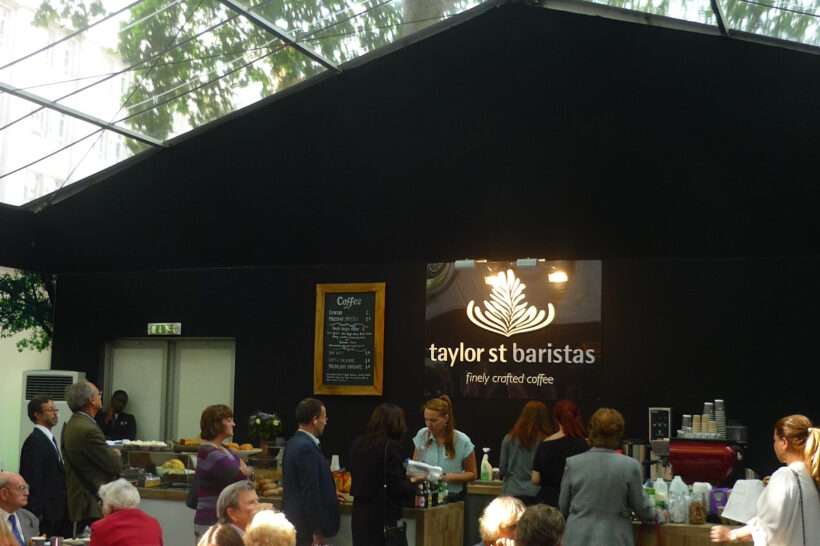 Solution
Neptunus erected a large Alu Hall, Double Decker and an Alure Globe, covering a total surface area of more than 3,800 sqm to house the exhibits plus a bar and restaurant area for visitors.  Neptunus' Alu Hall is well suited to events like LAPADA and the Pavilion of Art & Design. As a clear span structure, available in a multitude of widths, the Alu Hall provided a modern and versatile space in which to contain a combination of exhibition space and visitor facilities.
However a busy nearby roundabout, stone steps and walls at the site presented numerous logistical challenges for Neptunus' installation team, as did 31 protected trees all of which are over 200 years old.
To overcome these challenges, Neptunus has designed a solution that will be carefully constructed to incorporate the trees within the structures – including the Double Decker. This effectively protected the site and its historic features.  Despite site restrictions meaning that unloading of materials was only possible at night; Neptunus delivered the project on time and to the customer's requirements.
Benefit
"I would like to thank Neptunus for all its hard work in contributing to the success of the 2012 LAPADA Fair," comments Sarah Percy-Davis, Chief Executive, LAPADA.  "The two-tier structure was a resounding success with both exhibitors and visitors alike and we were delighted with the overall effect. It has been a pleasure working with Neptunus it has made this challenging project run as smoothly as possible and we are very grateful for its care and attention to detail. We look forward to working with Neptunus again next year."
The LAPADA structures were retained and reused by the Pavilion of Art & Design in October, which resulted in minimising the carbon footprint and fewer disruptions. When dismantled there was no trace of the structure's presence and the landscape was unaffected.
These products were used in this project: