IFTF FAIR 2016
The Assignment
Expo Haarlemmermeer is an exhibition area originally designed to accommodate the large scale horticultural show Floriade, held in the Netherlands every ten years.
After the Floriade in 2002 the location became an exhibition area for, amongst others, the International Floriculture & Horticulture Trade Fair (IFTF) Expo.  The IFTF has grown into one of Europe's most popular floral and gardening fairs with the numbers of exhibitors increasing each year.
The Expo Haarlemmermeer had considered erecting a permanent new building to meet the demands from the exhibitors and huge numbers of visitors attending the events at their location, but could not provide a permanent structure in time for the 2016 IFTF Fair – the seventh edition of the show.
Organisers turned to temporary structure specialists Neptunus to create additional exhibition space for the show. Neptunus was asked to provide a swift but effective custom-made temporary solution involving a permanent roof structure present at the Expo's premises.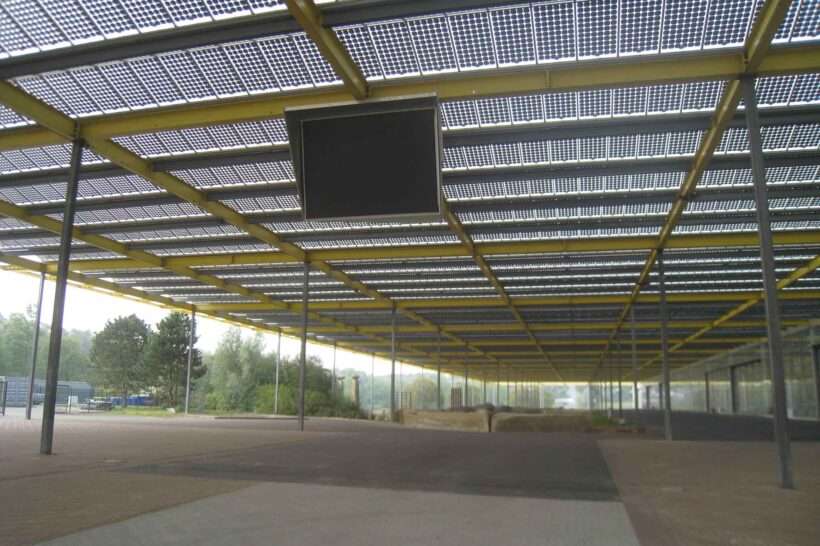 The Solution
Neptunus created the additional covered exhibition space required by cleverly enclosing an open-ended part of the existing Expo Haarlemmermeer building. Neptunus' technicians came up with the perfect solution by utilizing demountable walls from their Evolution range of temporary structures and attaching them to the existing roof. This created a large enclosed area providing the show with a total of 25,000 square metres of exhibition space – almost twice as much as the previous year's event.
It took an eight-strong team of Neptunus' technicians just four days to build the wall. Standing at eight metres high and totally insulated, the wall was connected to the roof by an ingenious clamping system designed by Neptunus.  The temporary wall system is completely demountable and reusable, making it a sustainable solution which also offers the scope to enlarge the building even further in the future.
A total of 275 exhibitors were accommodated at the 2016 show and organisers hope that over the next two years, with the new flexibility to increase space on the site, numbers will increase to around 500.
The Challenge
Normally, Neptunus provides complete temporary venues for major events and exhibitions. However, on this occasion they were able to adapt the walls from their popular Evolution range of temporary structures and design a bespoke clamping system to enable the walls to be attached to the permanent roof of Expo Haarlemmermeer.
The walls are from a system of temporary structures used both for short-term and long-term space solutions.  Neptunus' Evolution range has provided semi-permanent accommodation for stores, warehouses, sports hall, showrooms and many other uses.
Neptunus also provided emergency lighting and heating within the new temporary facility.
The Verdict
Dick van Raamsdonk, spokesman for the IFTF, said: "Neptunus has ensured that we were able to expand our exhibition space for this edition. We are delighted that both our exhibitors and visitors can benefit from the improved lay-out and new look, as we had envisioned."
Neptunus Project Leader Jock Muijsers said: "Thanks to our in-house expertise we were able to come up with a safe construction built with our existing walls that could be erected within a short amount of time."
These products were used in this project: