BRIT Awards
The Assignment
When some of the biggest names in the music business gathered at London's o2 Arena for the 2018 Brit Awards with Mastercard organisers wanted to ensure that the stars, walking down the traditional red carpet, were kept warm and dry as they posed for photographs and were interviewed by the world's media.
The star-studded line-up included Stormzy who was one of the big winners taking the awards for best British Male Singer and best British Album while the best British Female award went to Dua Lipa. Gorillaz received the accolade of best British Group with Rag 'N' Bone Man taking the title of best British Single for his smash hit Human.
Neptunus was appointed to provide the temporary infrastructure for the arrivals and red carpet area for Britain's biggest music night of the year staged on a chilly February evening in the Capital.
The Solution
Neptunus provided a range of temporary facilities to the highprofile event including the red carpet walkway, VIP drop off areas and back-of-house kitchen, security and production offices. The company utilised its Alu Hall range to provide a heated enclosure for the stars and media with unobstructed views for photographers and television crews. It took a 16-strong crew just four days to build the temporary facilities for the 2018 Brit Awards alongside the O2 Arena at Greenwich Peninsula.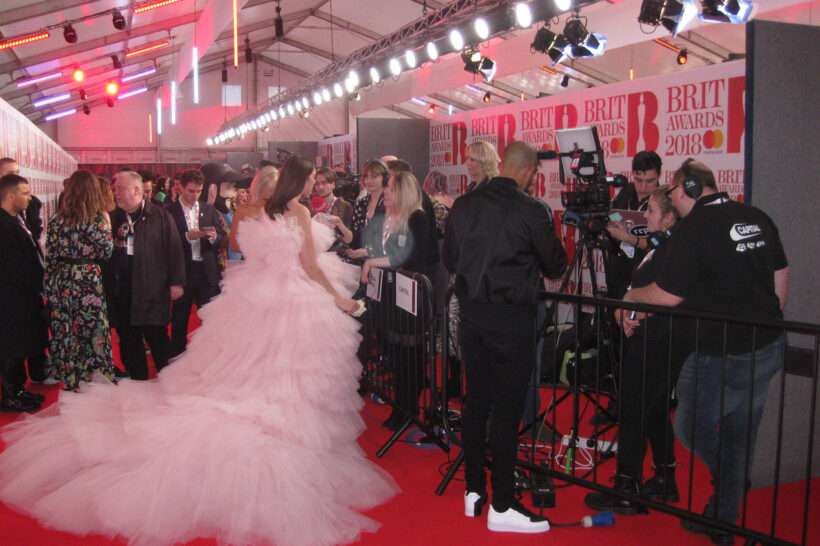 The Challenges
All of Neptunus' structures had to have self-weighted floor systems as no pinning is permitted on the London O2 Arena site. In addition television and production offices had to be constructed inside a busy loading bay area of the arena which presented Neptunus' build crew with an added challenge that they successfully managed.
The Verdict
The 2018 Brit Awards were yet another triumph for Neptunus which has become the structure supplier of choice for providing red carpet services to major celebrity occasions. Last year the company built similar facilities at SSE Arena Wembley when the MTV Europe Music Awards were staged in London.
Neptunus Managing Director April Trasler, said: "The Brit Awards is the biggest night of the year for the British music industry and we were delighted that once again Neptunus was selected to supply the red carpet structures to yet another major international showbiz occasion."
These products were used in this project: