Neptunus built temporary hospitality center for LTA cinch Championship 2021
The Assignment
The LTA cinch Championship is one of the key fixtures of the Lawn Tennis Association's grass court season in the lead up to Wimbledon and attracts many of the world's top stars. The 2021 edition saw the UK's former World Number One Andy Murray in action as he recovers from a long-term hip injury along with top seeded Italian Matteo Berrettini who won this year's title.
In 2019 the LTA had commissioned Neptunus to create a new state-of-the-art flagship sports hospitality pavilion exclusively for the tournament, staged annually at the historic Queen's Club in London. However, the coronavirus pandemic saw the 2020 championship cancelled ­– delaying the debut of the new facility.
While the 2021 cinch Championship was able to go ahead, strict restrictions on attendance numbers and social distancing regulations were in force. Organisers also faced the daunting challenge of finding additional space for officials, journalists and broadcasters who would normally be accommodated in the clubhouse at Queen's and that's where Neptunus was able to help. Providing the temporary sporting event structure they needed to adhere to the regulations, we were able to create a space that spectators enjoyed spending time in.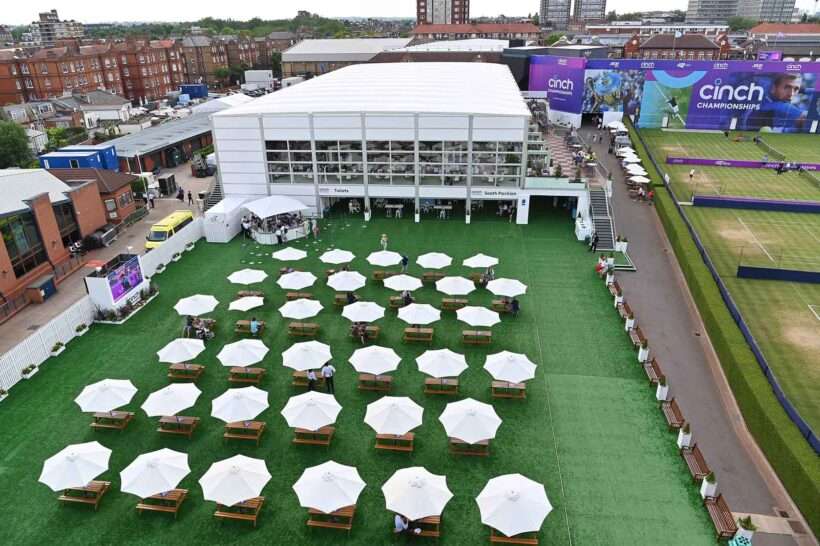 The Solution
Originally designed by Neptunus' creative team as a dedicated facility for VIP sports hospitality with public areas for dining and refreshments, the new-look South Pavilion was reconfigured for 2021 to incorporate office-style facilities for officials and a special sound proofed area for journalists and broadcasters.
A two-storey Evolution II structure, covering an area of 3,600 square metres, took a 20-strong crew of Neptunus technicians with support from sub-contractors just 22 days to build. With the look and feel of a permanent building, the pavilion included internal and external mezzanines and  a 60-metre-long wooden decked roof-top garden with panoramic views across the tennis courts.
In addition to the offices and media space, the facility incorporated a VIP hospitality area with atrium entrance, sponsors suites, a café restaurant, merchandising booths and an open-air bar area along with essential services such as kitchens and a first aid room. Neptunus were responsible for the internal fit-out, climate control, lifts, floor coverings and luxury toilets within the structure.
While creating a fantastic new socially distanced experience for tennis fans, Neptunus were also able to demonstrate the amazing flexibility of their dynamic temporary sporting event structure technology to adapt and deliver all the additional space requirements of the LTA.
The Challenge
The Queen's Club Championship is held in a busy area of west London with difficult access for large vehicles. Delivery of tonnes of equipment and the build process had to be conducted during a tight time frame and operating within strict Covid protocols.
Meticulous advanced and onsite planning and a collaborative approach with the LTA ensured a smooth build process was completed on schedule.
Technicians also had to introduce sound proofing for the Media Centre within the pavilion to ensure broadcasts and interviews could be conducted without noise from the adjoining bars and restaurants.
If coronavirus restrictions are fully lifted for the 2022 Queen's Club championship, the South Pavilion is likely to revert to an exclusively dedicated sports hospitality facility with temporary VIP hospitality space.
The Verdict
Chris Pollard, the LTA's Director of Major Events, said: "The solutions provided by Neptunus enabled us to reconfigure the site efficiently and effectively, deliver the best hospitality experience possible within a safe environment, and accommodate the media in an area that many journalists would like to see us use again. This is testament to the quality of service offered by Neptunus, and the success of our collaboration. We look forward to the remaining years of our partnership, and an even better experience for those attending the cinch Championships as the world continues to open up."
These products were used in this project: